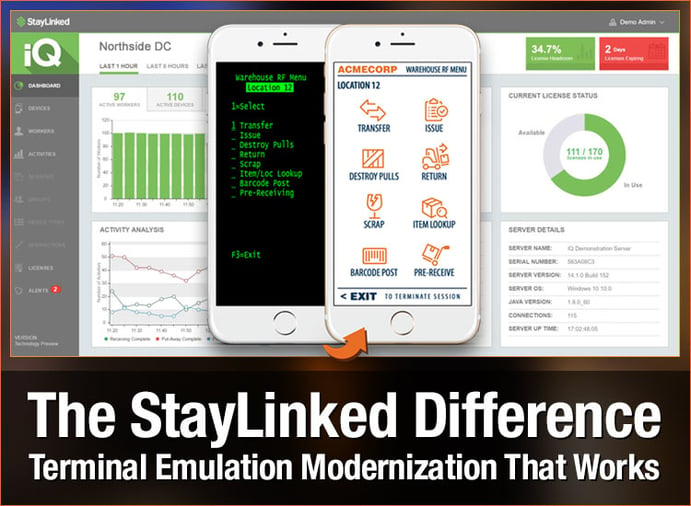 The StayLinked Difference
In previous weeks, we've discussed the different aspects of StayLinked's Terminal Emulation (TE) solution: Modernization with SmartTE, the ability to run TE across multiple devices, and the ability to gain insights into your business processes with StayLinked iQ™. With all of these benefits highlighted, we'd like to illustrate the ways StayLinked helps make your enterprise more efficient than any other approach can, and explain how StayLinked does it: Advanced Single-Server Architecture, Fair Licensing, Full Integration, and Embedded Business Intelligence.


One Server, Not Many
With StayLinked, you only need one server to run your warehouse applications. Other systems require multiple servers to haphazardly accomplish some of the same things, with one notable exception: no advanced business intelligence. StayLinked SmartTE and StayLinked iQ work together to form a modernized Terminal Emulation solution that allows you to run your warehouse applications in a completely transparent environment. With the StayLinked iQ component, you have an integrated business intelligence solution that gives you insights into your critical business processes.
StayLinked Single-Server Requirements:
One Server (TE with Session Persistence, Fair Licensing, and Embedded Business Intelligence)
Competitor's Multi-Server Requirements:
Mobile Device Management Server

Proxy Server

License Server

Screen Builder Server

(No Business Intelligence)
In addition to the single-server approach, StayLinked has a close partnership with SOTI, the leader in mobile device management software that works seamlessly with StayLinked's proven architecture to manage mobile devices.
And when it comes to deployment, StayLinked SmartTE makes it easy: there is no need to redeploy modernized TE screens to mobile devices. All devices utilize new screen designs as they connect through the central server.
Fair Licensing Policy
If you're running Terminal Emulation using one of our competitors' approaches, the odds are you're paying for licenses that are not in use. It's that simple. Unfortunately, with device-side licensing, the devices that aren't being used, devices sitting in cradles, devices that aren't working, device in lockers and drawers, and devices that are being repaired, are all unnecessarily using licenses you've paid for. This is an added and sometimes invisible expense that many customers may not even be aware of.
With StayLinked, you license only devices in use. Because of StayLinked's unique centralized architecture, licensing is handled only as devices connect through the central server. This enables you to pay for only the licenses you use, not your entire inventory of mobile devices. And with StayLinked iQ you can manage your permanent and temporary licenses in an easy-to-use interface that gives you visibility into your licensing usage patterns so you can see what's going on. From there, optimization is a snap. Other systems simply can't do that.
A Fully-Integrated Architecture
StayLinked's fully-integrated architecture uses a single server to handle your business processes: TE application clients, session persistence, modernized screen design, fair licensing, and business intelligence. Everything you need for TE in your warehouse can be done with one StayLinked server. That means that installation is easy (less than 10 minutes) and maintenance is minimal. With StayLinked, upkeep is easy, maintenance is inexpensive, and because it's tightly-integrated, administration is simple.
Other approaches, however, require multiple servers to accomplish a lot less than what the StayLinked solution offers. This means more headaches during the installation process and ongoing support for troubleshooting multiple servers that may not even be in the same location.
Embedded Business Intelligence
As we mentioned in last week's post, many analytics and business intelligence solutions try to become all things to all people, but StayLinked iQ is designed specifically for Terminal Emulation environments. And because of the StayLinked architecture's centralized design, your warehouse can embrace cutting-edge advancements such as drone technology and augmented reality. StayLinked iQ will allow you to interface with emerging technologies to gain visibility into how they are improving your processes. As an embedded component of the StayLinked Server and the StayLinked SmartTE client, StayLinked iQ gives you insights into your business processes that were previously unattainable.
Sign Up for the TE Modernization Webinar
To learn more about what StayLinked can do to help modernize your warehouse applications, sign up for the StayLinked Webinar: Terminal Emulation Modernization, Thursday, November 3, 2016, at 11am PDT, click here, Tuesday November 8, 2016, at 11am PDT, click here.
To find out more about how SmartTE and StayLinked iQ can optimize supply chain productivity, click the 'Learn More' button below.
About StayLinked
For over 20 years StayLinked has been delivering world-class solutions for mission-critical, host-based systems in the warehousing, manufacturing, transportation, and retail industries. It was our deep understanding of these host-based systems that led our team of technology experts to introduce a new paradigm in terminal emulation and session management for mobile devices.