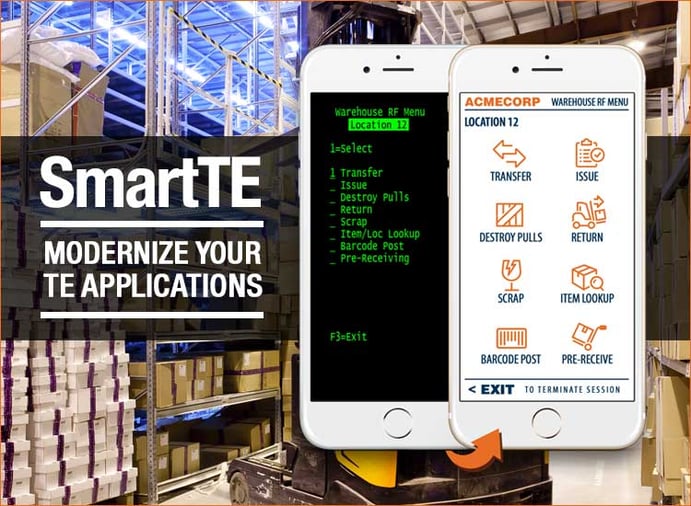 Warehouse Challenges: Keeping Up with Technology
In the coming weeks leading up to our TE Modernization Webinar (Thursday, November 3, 11am PDT), we're going to examine some of the challenges warehouses face and we'll highlight some solutions that meet those challenges head on. Most warehouses we've seen that utilize terminal emulation applications have at some point been faced with issues of aging equipment, obsolete software, and outdated business practices. If not all three at the same time, then certainly one or the other somewhere along the way. If not addressed, these challenges can be transformed into real problems that negatively impact worker productivity and seriously affect your bottom line. At StayLinked, we've worked hard to create innovative solutions that help warehouses overcome these technological issues and thrive in ever-changing conditions.

Modernization: A Good Strategy (But it Has to Work!)
In the area of modernization, terminal emulation has faced real challenges. You may have experimented with some of the web-based approaches that promise to transform your legacy applications into modern applications. In addition to experiencing a burden on system resources, you have likely experienced some of the hurdles web-based approaches suffer from:
Speed: Issues of speed, latency, and rapid-response feedback
Connectivity: Dropped sessions, network connection errors
User Experience: Poorly reformatted screens, unfamiliar user experience
These issues, as you're probably well aware, are not trivial. Once devices are in the hands of the workers on the warehouse floor, speed is absolutely critical since even the slightest delay in scanning response times can be magnified over the course of days, weeks, and months. Web-based applications lack the rapid-response feedback necessary when scanning and picking in a production environment. And if the connection fails, what happens to all of the data from the dropped session? As for reformatting the screens, how is your workforce supposed to interact with these new screens with out extensive retraining?
SmartTE: An Out-of-the-Box Solution (That Actually Works!)
With StayLinked SmartTE, we've reimagined the terminal emulation experience so that the speed and reliability of TE is leveraged, and due to the StayLinked architecture, there is virtually no additional system resource burden and there are no dropped sessions.
And just as importantly, SmartTE allows your screens to become touch-enabled right out of the box so that native application screens appear the same on Tuesday as they did on Monday. Your workers can utilize all of the power of state-of-the-art touchscreen devices without having to be retrained.
Rolling Out: A Low-Risk Approach
Change costs money, but depending on how you manage that change can mean the difference between spending wisely on reliable solutions or spending a fortune on untested 'beta-at-best' products. With StayLinked SmartTE, you can roll out a modernized implementation at your own pace and in test stages as large or as small as requirements dictate.
If you want to exclusively test a particular screen and nothing else, SmartTE allows you to do that, simply and efficiently without having to ever touch the host application. And if you do, in fact, decide to redesign one or more screens using the WYSIWYG SmartTE Screen Designer, you can do so as incrementally or as extensively as required, without ever having to update the client on your devices.
Put another way, if you roll out an application to 3,000 devices, and forget the Exit button on a particular screen, you won't have the headache of having to update the client on 3,000 devices. Simply place the Exit button on the screen, click 'Save' and the the next time workers on the floor login to the application, the functioning Exit button appears, as simple as that.
Familiar UX: No Retraining Necessary
Once an organization has decided to commit to new technology, such as touchscreen devices, it doesn't mean the old devices suddenly disappear. StayLinked SmartTE enables production environments to roll out new devices with touchscreen capabilities at the pace required on as few or as many devices as needed for testing.
Workers will see the same layout of the application and because SmartTE leverages the touchscreen experience without unnecessarily reformatting your screens, workers will actually perform tasks quicker than ever before.
New Devices and SmartTE: A Truly Touch-Enabled Solution
With all that said, it's worth highlighting StayLinked SmartTE's ability to touch-enable screens right out of the box. Legacy screens become touch screens instantly, with optimized colors and functioning touchscreen buttons. And if you do have problematic screens within your native application, the SmartTE Screen Designer can help you optimize these individual screen so your workers' user experience improves instantly.
Embedded Business Intelligence: StayLinked iQ™
Once you've implemented the SmartTE solution, you now have access to a world of data never before realized with terminal emulation. StayLinked iQ is an enhance business intelligence and analytics solution designed specifically for warehouse environments.
With StayLinked iQ you now have access to picking performance by location, worker activity leaderboards, and with our Fair License Policy, you can easily manage your existing licenses and as your workforce grows you will be able to instantly order new licenses with the click of a button.
Sign Up for the TE Modernization Webinar
To learn more about what StayLinked can do to help modernize your warehouse applications, sign up for the StayLinked Webinar: Terminal Emulation Modernization, Thursday, November 3, 2016, at 11am PDT, click here, Tuesday November 8, 2016, at 11am PDT, click here.
To find out more about how SmartTE and StayLinked iQ can optimize supply chain productivity, click the 'Learn More' button below.

About StayLinked

For over 20 years StayLinked has been delivering world-class solutions for mission-critical, host-based systems in the warehousing, manufacturing, transportation, and retail industries. It was our deep understanding of these host-based systems that led our team of technology experts to introduce a new paradigm in terminal emulation and session management for mobile devices.