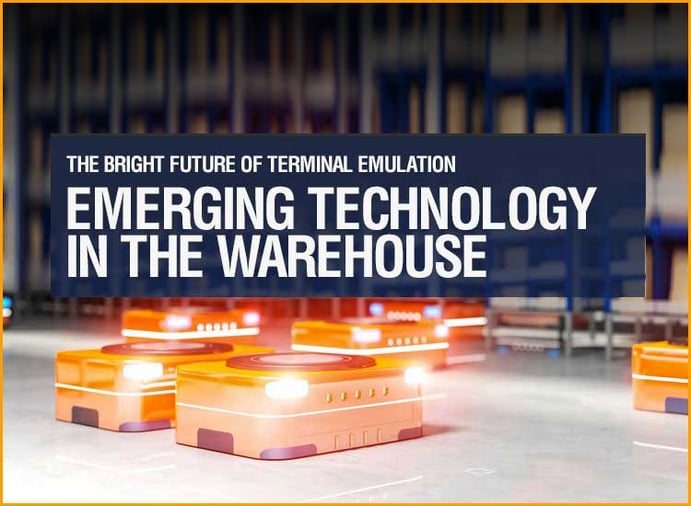 StayLinked and IoT: The Bright Future of Terminal Emulation
If you've heard us speak at any of the events we've recently attended, then you're aware that we see a bright future for Terminal Emulation. Of course, StayLinked SmartTE is a big part of that bright future, but in this post we're going to step farther into the future to explore how Terminal Emulation will extend its relevance into technologically-advanced warehouses.
It's no secret that some of the largest retailers on earth employ as many as 30,000 robots. Though that number is far and above the norm, it's not unreasonable to assume that this is the direction the industry is headed. In fact, the mobile robot market continues to grow: According to market research firm Technavio, the global logistics robots market is expected to reach $2.15 billion by 2020, growing around 32 percent annually. StayLinked will enable customers to take advantage of emerging technologies such as autonomous mobile robotics (AMR) and is actively seeking technology companies to partner with in this area. We're currently conceptualizing a proof-of-concept with local robotics teams to show how StayLinked would work with automated processes on the warehouse floor.
With the StayLinked Application Program Interface (API), robotics manufacturers will have access to host applications and warehouse management systems that didn't exist before. In fact, StayLinked will interact with robotics to accomplish a variety of tasks:
Communicate Order Information with Autonomous Mobile Robotics
Direct Robots to the Correct Location
Communicate the Correct Pick Amount
Relay the Successful Order Transaction to the Host
Another emerging technology in the supply chain is Augmented Reality (AR). Though robotics is emerging in the warehouse, the use of AR for workers is also becoming an area of interest for technologically-advanced warehouses. Similar to the way StayLinked will communicate with robotics manufacturers, we will also communicate with AR smart glasses to create a rich interface for the user.
A Real World IoT Automation Installation for a Global Apparel Leader
Recently, StayLinked traveled onsite to a global athletic apparel manufacturer to automate carton count and error handling that was, until recently, being performed manually. The mission was to free up human resources, expedite counting, and minimize errors without disrupting the existing processes or incurring unnecessary costs.
For those familiar with the Internet of Things (IoT) and with automation, the resources needed to transition to a full-scale operation can take a tremendous toll, both in the amount of time they require as well as the required financial commitment. StayLinked Labs, however, believed that by utilizing Terminal Emulation applications, the process of automation could be achieved with existing hardware and software, and that it would be much less costly, and could be done in a fraction of the time.
The first step was to design and build a prototype that could illustrate the IoT process in action [see the video here ]. The solution was designed by StayLinked Labs in a 3D CAD software application and then the parts were manufactured using a 3D printer before being assembled and tested. At the customer site, the full-scale solution was tested and implemented within 24 hours. The solution is currently in operation on the production floor. Watch for a future blog post detailing the capabilities of StayLinked Automation.
---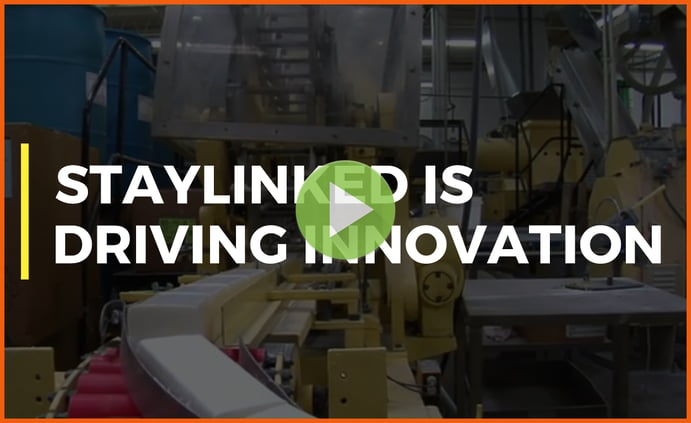 See how StayLinked Labs is helping modernize automated warehouse applications by watching the StayLinked Automation Conveyor in action!
---
Coming Soon in Q4: StayLinked SmartTE IoT Automation (and more!)
The SmartTE automation solution created at StayLinked Labs has been so successful that the next release will give customers access to the automation feature, as well as a state-of-the-art keyboard designer that will allow users to design custom keyboards, Smart Tiles, button overlays, and more. StayLinked has also partnered with FontAwesome for the next release to include a robust set of vector icons displayed as Unicode font characters. This new feature eliminates the need for graphic element manipulation and maintenance so that anyone modernizing TE applications can use iconography simply by typing the corresponding Unicode character set. Stay tuned for much more information regarding these and other features in the upcoming version of SmartTE scheduled for release this year.
StayLinked IoT Solutions in the Warehouse of the Future
As the cost of implementing robotics declines, the opportunity to integrate them with existing technologies becomes possible not only for enterprise operations, but for small and medium businesses as well. Our customers know that StayLinked keeps mobile workers focused on warehouse tasks and eliminates the problem of dropped sessions. That's crucial when dealing with mission-critical warehouse applications since, in many ways, it's the foundation of the supply chain. Without a reliable session, everything else in your supply chain business process comes to a hard stop. One of the goals for StayLinked moving forward is to help customers maintain the reliability of Terminal Applications while continuing to improve business processes using the latest technologies.
With StayLinked SmartTE, the capability to graphically improve your host applications on new devices is already a reality. We've made Terminal Emulation applications behave like native smart phone applications on many of the latest touchscreen devices by most leading manufacturers.
SmartTE reimagines the terminal emulation experience, leveraging the speed and reliability of TE, and because of the efficiency of the StayLinked architecture, there is virtually no additional system resource burden. And, as always, there are no dropped sessions.
Just as importantly, SmartTE allows your screens to become touch-enabled right out of the box so that native application screens appear the same on Tuesday as they did on Monday. Your workers can utilize all of the power of state-of-the-art touchscreen devices without having to be retrained.
You can also apply touchscreen capabilities to your warehouse applications right out of the box. With a combination of hardware types from different manufacturers you know how hard it can be to choose a software solution that can work seamlessly across your devices.
You may have seen some of the vendor-specific solutions of all stripes that claim to modernize your backend application on your device with ease. But if you talk to anyone who has actually tried these software approaches, you'll often hear the same refrain: It doesn't work! At StayLinked, the folks we've talked to who are actively looking for an alternative are amazed at not only how well SmartTE works, but how easy it is to use.
The Warehouse of the Future: Closer Than You Think (It's Here)
There are a host of robotics manufacturers already implementing warehouse solutions. The size, range, and capabilities vary for each: some are goods-to-person solutions, others are picking robots, others still move entire shelves or racks to pick stations. Even more exciting for the mobile worker is the prospect of augmented reality, a technology that will allow workers to increase their productivity and enhance the workfloor experience.
In the coming weeks, we'll explore further the StayLinked technologies that are driving innovation in the warehouse, see how analytics and business intelligence can help improve these processes in tandem with emerging technologies, and examine the progress of these systems in real world scenarios. Just as importantly, we'll see how Terminal Emulation applications will continue as the backbone for the warehouse of the future, with StayLinked providing a bridge from legacy applications to state-of-the-art innovations in the IoT space.


About StayLinked

For over 20 years StayLinked has been delivering world-class solutions for mission-critical, host-based systems in the warehousing, manufacturing, transportation, and retail industries. It was our deep understanding of these host-based systems that led our team of technology experts to introduce a new paradigm in terminal emulation and session management for mobile devices.