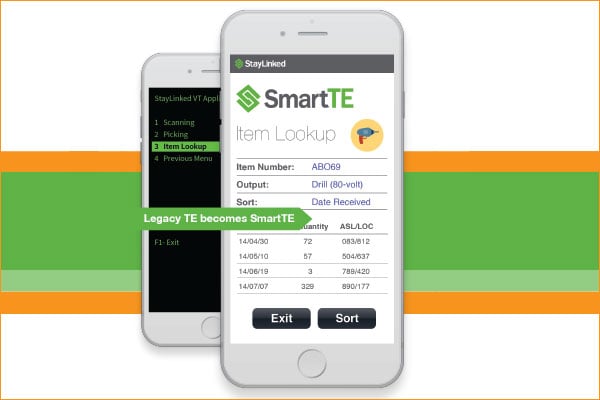 StayLinked SmartTE for Android and iOS is now available on the StayLinked download page as well as on the App Store and Google Play Store. This product allows you to easily transform terminal emulation screens to touchscreen-friendly, graphically rich screens to increase application usability and overall productivity.
Background

More than 70% of data collection devices in the warehouse run wireless Terminal Emulation to connect with mission-critical, server-based applications. This solution has been the standard in data collection for decades because it is fast, secure and very reliable when implemented correctly.

While traditional Terminal Emulation is the most relied-upon solution in the industry, there are great productivity improvements to be had by implementing an easy-to-use, graphical data collection application that supports modern touchscreen devices. But there are many unknowns: high costs, long implementation cycles, and application performance risks associated with migrating away from fast and reliable Terminal Emulation "green screen" applications.
Solution
With StayLinked SmartTE you get the best of both worlds with No-Risk Application Modernization. You continue to realize the speed, reliability, and security of StayLinked TE while increasing productivity and usability with the addition of an intuitive, modern user experience.

SmartTE is an extension of StayLinked Terminal Emulation and SmartTE features are included in StayLinked version 14.0.