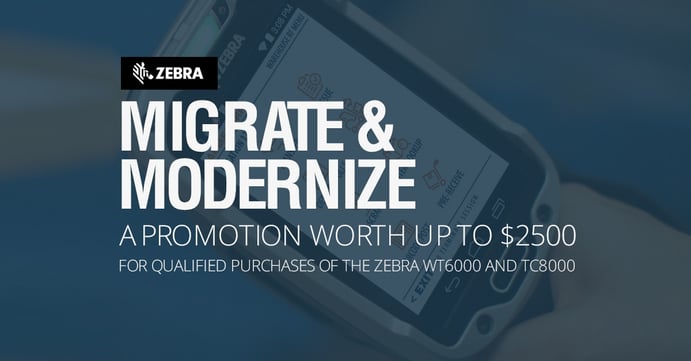 StayLinked offers Free Modernization Services for Select Zebra Devices*
*With the purchase of 5 or more Zebra WT6000 or TC8000 Devices, and qualifying purchase of StayLinked licenses.
We're very excited to be working with Zebra on the Zebra TC8000 and Zebra WT6000 promotion which includes free StayLinked SmartTE Launch Services. StayLinked SmartTE, the most reliable and secure Terminal Emulation(TE) solution available, allows you to transform your TE app to a modern touchscreen app in hours, not weeks or months as with other products.
Making the Most of Your Touchscreen Devices, Quickly and Easily
Experiencing modernization woes? You're not alone. And we can help! Whether you are a hardware manufacturer, a reseller, or an end user, you've likely heard tales of anger and frustration when it comes to modernizing your Terminal Emulation applications for modern touchscreen devices.
It's not exactly a well-kept secret: Many of you have gone down the path of modernizing screens, sometimes tens or hundreds of them, only to realize the approach you are using doesn't work, doesn't allow for easy edits, nor rapid deployment of changes, or localization compatibility without having to re-design many, if not all, of the redesigned layouts. It's only then that you realize how many of the screens are poorly rendered, and unusable. And the truth is, you are not alone. We've heard this story repeated on so many occasions from frustrated hardware manufacturers, solution providers, and customers, that it's causing anxiety in the market.

MODERNIZE IN ONE HOUR: Watch the StayLinked Presentation
The modernized approach to Terminal Emulation has been presented with one challenge after another, from devices without physical keyboards to new operating systems with limited support. At every step, StayLinked has met the challenge and delivered solutions to customers with unparalleled success. But no modernization challenge has been as difficult to surmount as limited available screen space on devices without keyboards.
StayLinked Continues to Lead the Way through Innovation
The StayLinked Smart Keyboard delivers the best possible user experience on touch-only devices with fully configurable transparent keyboards allowing users to utilize the entire screen; they no longer have to sacrifice usability for the sake of screen space. In fact, with Smart Keyboard, customers retain all of their application's functionality which enables seamless migration to Android and to new state-of-the-art form factors without ever having to touch the host application.
In addition, a new custom keyboard designer is soon to be released that will revolutionize the way you navigate through your app screens, without ever having to touch the host application.
Yet another recent StayLinked innovation is StayLinked iQ, a product which delivers intelligence and actionable insight to Terminal Emulation customers.
"Most of these TE environments have been starved of valuable information over the past 15 years," says Padraig Regan, who guides StayLinked Labs, an innovation-focused research and development group within the company. "Now, we can provide our customers with real worker productivity data and highlight what actions need to be taken to improve and maximize productivity.
Determining how warehouses, workers, and devices perform has always been a mix of intuition and instinct. It's easy to recognize failure when the entire network goes down, or if an employee misses a shift, or if a device refuses to reboot. But that's hardly a blueprint for optimizing your business processes.
With StayLinked iQ and Zebra, the supply chain now has industry leaders determined to provide real-time mission-critical data to customers to gain visibility into business processes and ultimately increase warehouse and worker productivity.
THE PROMOTION: WHAT YOU GET
With the purchase of five or more Zebra TC8000 or WT6000 mobile computers, and five or more StayLinked licenses, you are eligible for the following free SmartTE launch services from StayLinked:
Installation:

Assistance (remote) with installation of SmartTE Server, Admin, Clients; Initial configuration for Telnet/SSH host; Validation of end-to-end application connectivity; Initial configuration of keyboard map and barcode settings in Server for application compatibility.


Security:

Enable & Configure Blowfish encryption; Configure Administrator software user profiles (Admin, Help Desk, On-site Support, etc.); Set Client configuration password; Define fixed network port ranges for consideration of connections passing through a firewall (Internet, wide-area, remote sites).


SmartTE:

Introduction to SmartTE client capabilities; Initial configuration of SmartKeyboard (transparency, haptic feedback, keyboard layout selection); Define Extended Keys toolbar; Design Modernized graphic sign-on screen; Evaluate host menus and screens for initial Dynamic Screen Modernization; Configure SmartMenu behavior; Identify high-value screens for Screen Designer work.


StayLinked iQ Embedded:

Enable built-in database for usage tracking; Add user id capture for session and device usage history; Configure logging/network statistics for preferred level of historical visibility; Configure iQ embedded license utilization alerts; Introduction to accessing the iQ dashboard; Identify candidate workflows for Activity Tracking.
Resellers and End-Users
Resellers and End-users can contact Kevin Hoostal, StayLinked Director of Channel Development, for more information and program details.
Already purchased your devices?
Have you already purchased your qualifying Zebra devices? Visit the StayLinked Promotion site to begin the launch services process.

About StayLinked

For over 20 years StayLinked has been delivering world-class solutions for mission-critical, host-based systems in the warehousing, manufacturing, transportation, and retail industries. It was our deep understanding of these host-based systems that led our team of technology experts to introduce a new paradigm in terminal emulation and session management for mobile devices.