Key Contributors to StayLinked's Record Setting 2015 Announced

2015 was an amazing year for StayLinked and we are very grateful to our amazing partners who make it all happen!
"As our business continues to grow we believe it is important to recognize the outstanding achievements of our partners," said Dan Hogan, StayLinked VP of Sales. "Our partners play a vital role in extending the reach of our products to a growing global audience. We congratulate all of our winners on their leadership over the past year, and look forward to our continued mutual success."
While we could easily have awarded many more partners, we decided to keep it simple by recognizing partners in the following four categories:
Global Partner of the Year - AbeTech Inc., Rogers, Minnesota.


AbeTech is a premium systems integrator of supply chain automation and inventory management systems. We increase productivity by helping you standardize, consolidate and optimize your data collection infrastructure. Core offerings include industrial wireless networking, software systems, bar code, RFID, enterprise mobile computing, automated labeling, automation systems, supplies and services. www.abetech.com
North American Partner of the Year - Strategic Mobility Group, Schaumburg, Illinois.

Strategic Mobility Group (SMG3) is an innovative technology provider that designs and integrates mobile solutions for enterprises. SMG3 consults companies on how to operate more efficiently through the use of mobile hardware, software, professional services, and support. It is SMG3's job to keep businesses up-to-date on the latest technology and provide them with innovative solutions that will maximize efficiency both inside the four walls and out. Helping businesses improve operational efficiencies and ROI is why many of the Fortune 500 companies choose SMG3 to manage their enterprise mobility needs. www.strategicmobility.com
European Partner of the Year - Heavey RF Group, Dublin, Ireland.

Heavey RF Group (now TimeWise Systems) is an international total solutions provider delivering mobile data technology and integration software for industrial clients in a wide range of markets. It manages the supply, installation, integration and complete 24/7 support of handheld and vehicle mounted mobile terminals, wireless infrastructure, wireless security and voice directed applications. www.timewisesystems.com
Technology Partner of the Year - SOTI Inc., Mississauga, Ontario, Canada.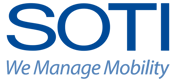 SOTI is the world's most trusted provider of Enterprise Mobility Management (EMM) solutions, with more than 15,000 enterprise customers and millions of devices managed worldwide. Their innovative portfolio of solutions and services provide the tools organizations need to truly mobilize their operations and optimize their mobility investments. www.soti.net
In Related News: SmartTE Now Available!
With StayLinked SmartTE you get the best of both worlds with No-Risk Application Modernization. You continue to realize the speed, reliability, and security of StayLinked TE while increasing productivity and usability with the addition of an intuitive, modern user experience.

SmartTE is an extension of StayLinked Terminal Emulation and SmartTE features are included in StayLinked version 14.0.