We want to thank guest blogger Dan Villanueva from Vangard Voice for providing insight into recent voice technology trends in the WMS world. It sounds like voice implementations are getting easier and faster with new software technology.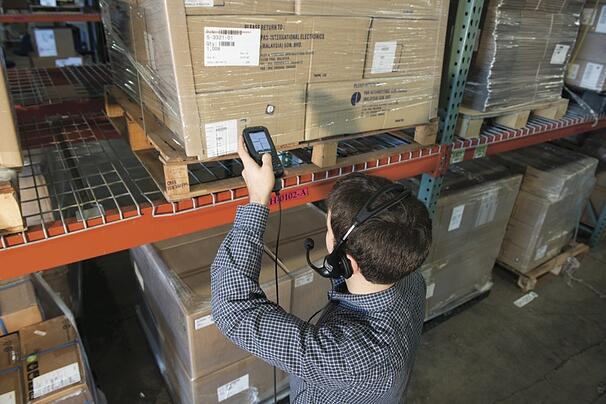 For decades distribution professionals have wrestled with the "risk vs. reward" dilemma of deploying a costly layer of complex legacy voice technology over their existing warehouse management and distribution infrastructure. Though voice productivity in the warehouse has proven to speed distribution and substantially reduce errors, the costs and risks associated with integrating another layer of server-based voice infrastructure with existing WMS, labor management and order management apps have limited voice deployments to about 10% of the current distribution market.
However, advancements in mobile and wireless technology have allowed leading companies like Cabela's Outfitters, VF Corporation, Tootsie Roll Industries, Oakley, RIDGID Tools and others to achieve substantial increases in DC voice productivity completely from their mobile devices, leveraging voice powered and seamless mobile terminal emulation that circumvents their back-end server-infrastructure, DC applications or workflows. These and other companies are deploying mobile voice solutions that "voice-enable" WMS solutions from leading providers like Manhattan Associates, Oracle, SAP, JD Edwards, as well as custom-built warehouse management systems – all without to changing or altering their critical business processes.
Related Link: StayLinked 12.1 Includes Enhanced Voice Capabilities
According to VDC Research "next-generation [mobile/wireless] voice solutions are breaking down the barriers to voice adoption, such as long deployment time frames, and relative inflexibility of legacy [server-based] solutions." VDC goes on to report that " key recent developments in voice technology have altered the cost profile of these solutions in terms of adoption and deployment, as well as management, support and ownership, making [voice] technology available to a broader base of users." *
Now enterprises can wirelessly voice-enable existing WMS applications from their mobile devices – avoiding server-based "purpose-built" voice applications integrated to individual picking, receiving and other applications. This the breakthrough distribution professionals expect for warehouse operation, in an era of mobile workforce innovations pervasive elsewhere across the enterprise. Mobile innovation in voice technology means wirelessly delivering voice capabilities and productivity "as opposed to deploying a dedicated solution requiring substantial middleware, coding and integration overhead." *
The competitive pressure to further speed the distribution processes while meeting and exceed customer expectations requires a flexible, modular and practical voice solution that is affordable to the broader distribution marketplace. The StayLinked - AccuSpeechMobile Voice Solution combines best-in-class, high performance terminal emulation with unique voice enablement technology on your choice of mobile devices. This StayLinked innovation ensures increased performance, productivity and profitability while protecting and optimizing your existing IT investments.
* "Voice Enabled Warehouse Solutions" VDC Research 2014
You can contact Dan at Danv@accuspeechmobile.com