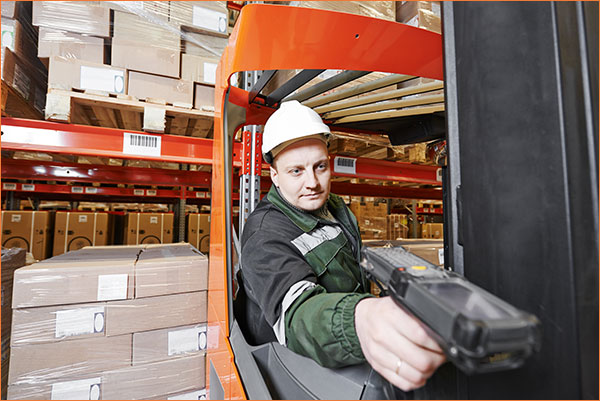 For many enterprises the number one productivity killer in the warehouse is losing connections to their host applications from wireless, barcode-scanning devices. These dropped connections cost your company time and money by reducing end user productivity and increasing support costs. Upgrading your terminal emulation product to a server-based solution can eliminate these problems in virtually all circumstances.
This post explores the top ten benefits of replacing traditional, mobile device-resident terminal emulation with next generation, server-based terminal emulation.
---
1 - Maximize Mobile Device Performance
Properly designed server-based terminal emulation is noticeably faster than traditional device-side products. End-users consistently comment upon scan-to-scan readiness and overall screen responsiveness. Traditional terminal emulation products send all telnet/SSH traffic over the wireless network to the mobile device. With next generation terminal emulation all interactions with the host application are executed locally on the host computer. Only small, very secure, interactions are exchanged over the wireless network with the mobile device. Wireless devices are expensive – keeping them functioning well reduces spares and maximizes your hardware investment.
2 - Terminal Emulation Sessions Can Be as Reliable as Your Host System
Terminal emulation user sessions should run on a host system such as an IBM iSeries or a Unix RS2000 and not on the device in the user's hand. These host systems are incredibly reliable and running the individual terminal emulation sessions directly on these systems makes them as reliable and highly available as the host system itself. Host-based Telnet and SSHv2 Client/Server sessions are not affected by disruptions in host network access, loss of wireless signal or any common device-related issues like dead batteries and re-boots.
Related Post: Eliminate This Major Warehouse Productivity Killer
3 - Centralize the Management of Wireless Terminal Emulation
Host-based terminal emulation can allow help desk staff to centrally manage all terminal emulation sessions and settings, licensing, and many aspects of the mobile device. Terminal emulation user sessions can be interactively managed from the help desk (monitored, taken-over, shared, or transferred to the control of a new device) – even when the user's device can't communicate with the host or becomes completely disabled. Server-side terminal emulation can often manage client software distribution, client configuration, barcode configurations, keyboard maps, scripting, screen reformatting, file transfers, and more.
4 - Add a Layer of Security to Your Environment that Traditional Terminal Emulation Cannot Provide
Host-based terminal emulation architecture can add an additional layer of security to your existing wireless network. Unlike device-side terminal emulation, there is no Telnet or SSHv2 client on the user's device (only a thin client) the only Telnet or SSHv2 communication takes places internally within the host system. Additionally, with an enterprise-class host-based terminal emulation product all terminal emulation application screen and captured data is encrypted and there is no "clear-text" Telnet or SSHv2 communication in the device to host system data stream.
5 - Choose From the Widest Range of Mobile Devices
With host-based terminal emulation most of the "heavy lifting" takes place on a shared software component resident on the server with only a very efficient thin-client component on the mobile device. This architecture allows for more rapid support of new mobile devices because the only required change is to the thin-client - the centralized server component does not require a new version release. Because new device support can be accomplished quickly, the mobile devices you use are 100% your choice – both initially, and into the future when performing a technology refresh or upgrade to your handheld computing hardware.
6 - Protect Your Investment with Usage Based Licensing
Unlike device-side terminal emulation products, server-side terminal emulation licensing is often usage based and not tied to individual/specific devices. Because all aspects of the solution are managed on the server-resident component, licensing can be tied to concurrent connections and not total number of mobile devices. Also, because licenses are not tied to a particular mobile device or user, when older units are replaced in favor of newer ones, there is no monetary impact. Once the solution is in place, new replacement devices can be put into production without the cost of a new terminal emulation licenses.
7 - Eliminate Problems with Firewalls and Excessive Network Traffic
With server-side terminal emulation, communication between devices running the thin client and the host system where the terminal emulation server is running should be accomplished using a UDP/IP-based protocol and not a typical TCP/IP based protocol which is more suited to a wired ethernet connection. A server-side terminal emulation architecture by its very nature is well suited to avoid any NAT, network firewall and port restriction challenges.
Additionally, because there is no constant TCP/IP device-to-host communication needed with the quiet UDP/IP-based protocol, network traffic and bandwidth consumption is reduced (no continuous communication with the host system is required between scans or key presses).
8 - Easily Enable Cellular/Wide-Area Host Application Access
A well-designed server-side terminal emulation product's thin-client architecture enables mobile devices to access host-based 5250/3270, VT100/220 and SSHv2 screen applications in real-time. Cellular device users and centralized support staff benefit from the same host-based session persistence/reliability, high-performance responsiveness, and data-level security as Wi-Fi users. User sessions that connect to host systems from outside the four walls are managed in exactly the same manner as users connecting within the four walls. This solution should also accomodate changing IP addresses on the cellular device and provide a level of security that could eliminate the need for a mobile VPN client.

9 - Integrate Seamlessly with Your Host Applications
An enterprise-ready, server-based terminal emulation product includes a robust host API for seamless and dynamic integration with host screen applications. A popular example is programmatically disabling and re-enabling the scanner on a device within a terminal emulation session. In this example, when a user scans a value that generates an error condition from the application, the user must acknowledge the error message on their screen and hit a specific key or the scanner will not work, which prevents them from simply ignoring the message and creating errors by scanning the next item.
10 - Reduce Your Support Costs
The reliability, speed, and security provided by an enterprise host-based terminal emulation product can drastically reduce the number of calls to your help desk. However, when support issues do arise the solution should provide a comprehensive help desk toolset that provide for a rapid resolution to the problem. By virtue of its inherent architecture, host-based terminal emulation can include tools that will accelerate troubleshooting to keep end users on the job, boosting productivity. These unique capabilities enable Help Desk personnel to quickly determine the source of issues whether it is with the mobile device hardware, network coverage, host system, or software. Features may include the ability to fully remote control or observe a live telnet session, run diagnostics on the mobile device, collect log files, send text messages to the device, re-start the client software, re-boot the mobile device, change device configurations, execute commands, run programs, manage licenses, collect usage data, and more. A session can even be shared across multiple devices for training purpose.
---
The technology behind host-based terminal emulation solutions consistently delivers greater reliability, performance, and security that traditional, device-side solutions. Many large and small companies are migrating to this technology to take advantage of the proven benefits discussed above.
StayLinked is the leading, host-based terminal emulation solution on the market and we invite you to try our next generation terminal emulation with a free 30-day trial.