---
Are there any legitimate reasons to deploy iOS devices in the enterprise to access Warehouse Management applications? Surprisingly to many, the answer is Yes!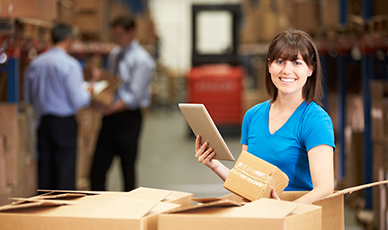 iPads, iPhones and even iPods are finding their way into traditionally ruggedized environments around the world. While these consumer grade devices will never replace ruggedized barcode scanning devices, there are applications where they can be a valuable addition to the enterprise. Here are three points to consider when contemplating an enterprise iOS rollout.
1. Today's workforce is well served by a user interface that they know and like
2. iOS devices can easily and efficiently access your WMS
3. Lower cost solution, but only in the right circumstances


Familiar Intuitive UI
A majority of supply chain workers are familiar with the Apple user interface. The workforce's knowledge of the way iOS devices work can greatly reduce training time and more quickly instill confidence in workers. This is especially significant when onboarding temporary or seasonal staff.


Fast, Reliable Application Access
A mobile device is only as good as the applications that it can access and the most important application in the warehouse is often the Warehouse Management System (WMS). In recent years WMS providers have introduced web-based interfaces, but for scanning-intensive workflows mobile browsers are not responsive enough. Terminal Emulation (TE) is still the fastest, most reliable interface to a host-based WMS and this technology is now available for iOS devices. Unfortunately, many companies eclipse the value and benefits of new devices by running inefficient software on the device.


Reduced Costs in the Right Environments
In most barcode scanning implementations iOS devices should be used with a protective, scanning sled. These sleds, such as the Honeywell Captuvo series, make the device more likely to survive a drop and provide high performance scanning capabilities. The cost of an iOS device and a scanning sled can be significantly less than a fully ruggedized mobile device when used in the right environments. Obviously, iOS devices are not a good choice in extreme environments where dust, moisture, and extreme temperatures are present. However, retail, healthcare and other less industrial uses can be a great fit for an iOS with a sled which also offer secure magnetic stripe readers and additional battery life.
If you are interested in learning how easy it is to connect your iOS device to your host-based application and see how fast Terminal Emulation can be click the button below for a free 30-day trial.

---