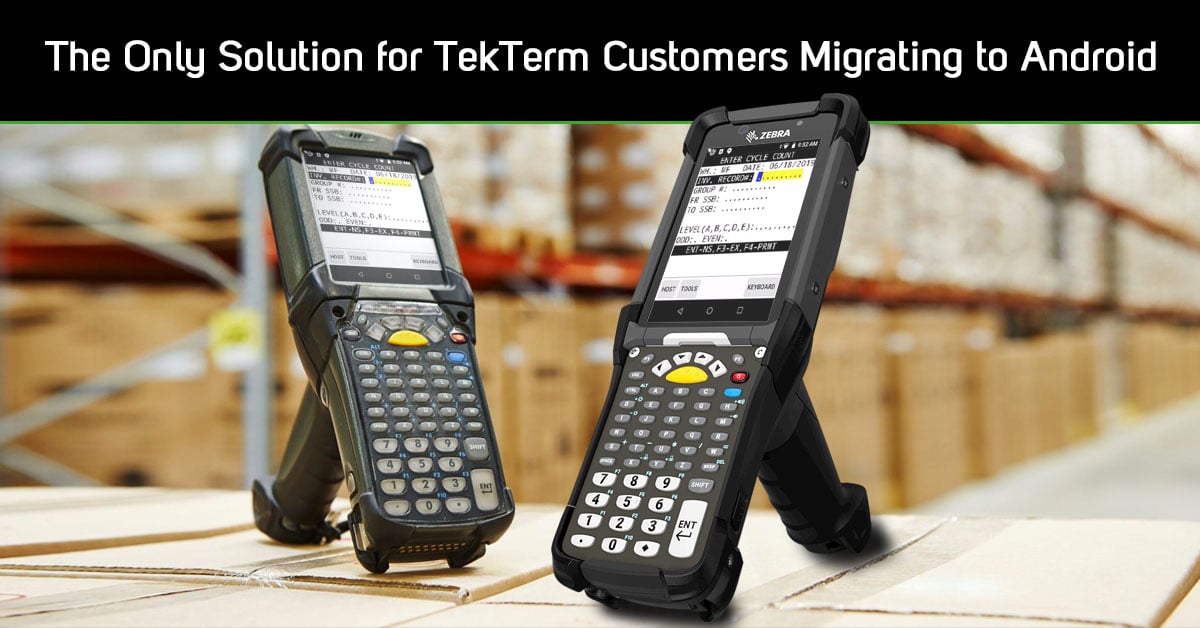 On November 1, 2019, StayLinked and Zebra Technologies officially released SmartTEK to support TekTerm TE for Android™-based Zebra mobile computers. SmartTEK provides customers a migration path to easily transition their legacy devices to more modern, feature-rich mobile computers. Zebra will be offering the StayLinked SmartTEK solution for customers using MIS/TekRF solutions who want to migrate to Android allowing customers with SAP and IBM host applications to run on Zebra Android devices. The SmartTEK solution is also a replacement for customers using MIS/TekRF to emulate SAP applications, IBM 5250 and 3270, and VT emulations.
StayLinked SmartTEK will allow TekTerm customers to further optimize their workflows through innovative StayLinked SmartTEK features such as dynamic screen conversion from keyboard-dependent legacy screens to optimized touch-only screens using buttons, iconography, and other navigational elements.
"We are excited to offer our TekTerm customers a migration path to Android without changing their existing backend TekRF server or business logic," says Gopi Polavarapu, Senior Director Product management. "SmartTEK from StayLinked gives our customers an enterprise-grade solution they can deploy on Zebra state-of-the-art Android devices without experiencing disruption to their existing workflows."
Zebra Announces Device Availability
SmartTEK enables customers who have deployed TekTerm software on Zebra's handheld and vehicle-mounted mobile computer to move to Zebra's latest enterprise-class handhelds Android-based touch computers, wearables and vehicle-mounted mobile computers:
MC9300 (Android O and above)
VC80x
VC83 (Android O and above)
MC3300
"We continue to lead innovation in the terminal emulation space," says StayLinked CTO, Justin Griffith. "This is another opportunity for us to help users not only migrate from operating systems that are being phased out, but it's also a chance for us to help customers extend the functionality of their applications and optimize their processes. We're in a position to help customers quickly bring these entrenched systems into the new world of cutting-edge technology such as hardware automation, location awareness, and IoT sensor integration."

SmartTEK: What's Included?
SmartTEK license SKUs entitle customers to a connection seat along with the StayLinked Server. The StayLinked server is included with the purchase of SmartTEK and is required for this solution. The StayLinked server can be obtained directly from StayLinked. Existing TekConsole configuration and settings will not require any changes. Technical support, documentation, migration to future Zebra-approved devices, and all future updates to the product while you stay on support are also included.
Upgrade and Migration Opportunities for TekTerm Users
"We're in a position to offer legacy XT15 and VH10 TekTerm customers an elegant transition from their current operating system to a Zebra Android-based device without modifying their back-end systems," explains Ron Caines, StayLinked's Vice President of Channel Sales. "For more than a decade, StayLinked was the premier Terminal Emulation solution for Psion Teklogix (now Zebra) environments and we continue to offer the most reliable server-based solution on the market. We're excited to extend and enhance TekTerm for Zebra's Android-based mobile devices."
Caines, a former President of Worldwide Sales at Psion Teklogix, is quick to point out the benefits the StayLinked approach brings to TekTerm users. "Customers will be able to take advantage of their tried-and-true host applications in new and exciting ways," he says. "And they will be able to accomplish this without any disruption to their current processes, or modifications to any of their host systems."
SmartTEK: How do I Get It?
SmartTEK solution will be offered by Zebra exclusively for select Zebra Android devices. Official product pricing will be announced to distributors through the Zebra Distributor's Notice. It will be announced to customers and to partners through Zebra's Product Marketing Bulletin.
StayLinked SmartTEK and Zebra Android Devices: Enhanced Productivity
StayLinked SmartTEK enables customers who have deployed TekTerm software on Zebra's XT15 keypad-based handheld and the VH10 vehicle-mounted mobile computer to move to Zebra's latest enterprise-class handhelds including the MC9300 and other Android-based touch computers, wearables and vehicle-mounted mobile computers. Businesses running SmartTEK on Zebra's mobile computers can take advantage of the power of the Android operating system and modernize their warehouse operations.
"With StayLinked's new SmartTEK software, customers using the XT15 and VH10 mobile computers can migrate from legacy Microsoft operating systems to take advantage of the productivity improvements offered by our innovative Android-based mobile computers," said Joe White, Vice President and General Manager, Enterprise Mobile Computing, Zebra Technologies.


Superior Single-Server Architecture
StayLinked's fully-integrated architecture uses a single server to handle your business processes: TE application clients, session persistence, modernized screen design, fair licensing, and business intelligence.
Other approaches require multiple servers to accomplish a lot less than what the StayLinked solution offers. This means more headaches during the installation process and ongoing support for troubleshooting multiple servers that may not even be in the same location.
Everything you need for TE in your warehouse can be done with one StayLinked server. That means that installation is easy (less than 10 minutes) and maintenance is minimal. With StayLinked, upkeep is easy and inexpensive, and because it is tightly-integrated, administration is simple.
.