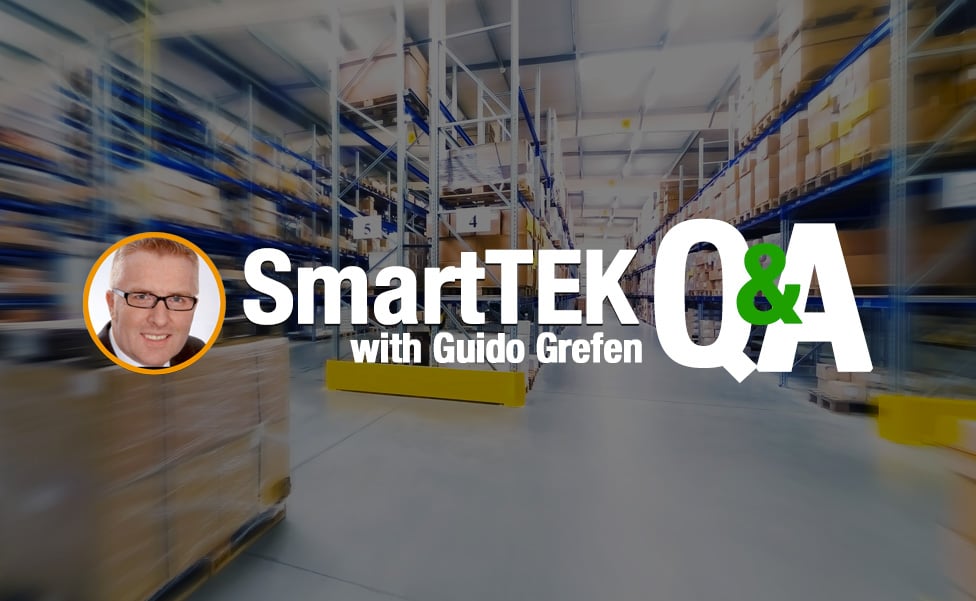 As you may have read recently, StayLinked and Zebra have officially announced the release of SmartTEK, the highly-anticipated Android solution for TekTerm users currently available on select Zebra devices. SmartTEK is the culmination of hard work from both teams which has resulted in a clear migration path to Android for TekTerm customers. Because TekTerm is a well-established product whose architecture can accommodate various installation configurations, we also understand that this solution evokes a number of questions from our partners around the globe.
Here to help us with these questions is StayLinked's Technical Account Manager, and TekTerm expert, Guido Grefen. Based near Düsseldorf, Germany, Guido was responsible for designing, implementing, and supporting the very first StayLinked installations in Europe while at Rodata, a value-added reseller specializing in AutoID. Guido maintained strong connections with StayLinked and Psion Teklogix while they were OEM partners, and his experience has been crucial in aiding the development of SmartTEK.
The following questions are from StayLinked resellers with answers provided by Gudio. We will also be incorporating many of these questions and answers into the growing list of SmartTEK FAQs.
Is the StayLinked Server free?
Yes, the StayLinked Server software itself is free. StayLinked sessions are licensed on the StayLinked Server, on a concurrent-user basis.
Can the StayLinked Server communicate with more than one TekRF server at the same time, or do you need one StayLinked Server per TekRF Server?
Yes, we can configure different hosts. Depending on the IP Address of the device or on the type of device, we can automatically connect this device to a preconfigured host/TekRF-Server. The user can also choose!
Does SmartTEK manage multi-sessions?
With StayLinked, the user can switch between as many as 10 different telnet and TESS sessions on a single mobile device.
Could you give me the requirements for the StayLinked Server (OS, database, hardware recommendations, virtualization, Azure compatibility, etc)?
In a basic configuration, the resource requirements are minimal. Our server installation guides offer basic system requirements for the most common installations and platforms.
For larger installations, the best recommendation is to monitor your actual utilization since this is the only way to measure performance within your environment. Once you start to reach 50 active users, any additional seats should scale in a linear fashion. We typically recommend customers review our 'Server Tuning Guide' at 100 sessions, though it is worth mentioning that we have customers with servers running thousands of sessions on a single server.
StayLinked will work on any Windows platform, as well as Linux, Unix, and IBMi systems. As a telnet client, we can connect to any number of telnet hosts and multiple types of emulation.
Is the StayLinked solution able to voice enable a TekRF transaction ?
Not at this time.
Is the StayLinked solution able to revamp TekRF screens (buttons, pictures, etc.)?
Coming soon! Screen recognition and screen design features are currently in development. You can read more about the SmartTEK 2020 roadmap at www.staylinked.com/smarttek.
Is it possible to obtain a free demo license in order to test your solution in our demo environment?
Absolutely! Simply fill out the request form on this page and a StayLinked representative will contact you as soon as possible with details on how to establish your demo environment.
Is there a limit to the number of devices that can connect to the StayLinked Server?
No. The number of connections depends upon the resources available on the server and the overall architecture of the solution.
Is there an architectural diagram of the TekRF & StayLinked solution?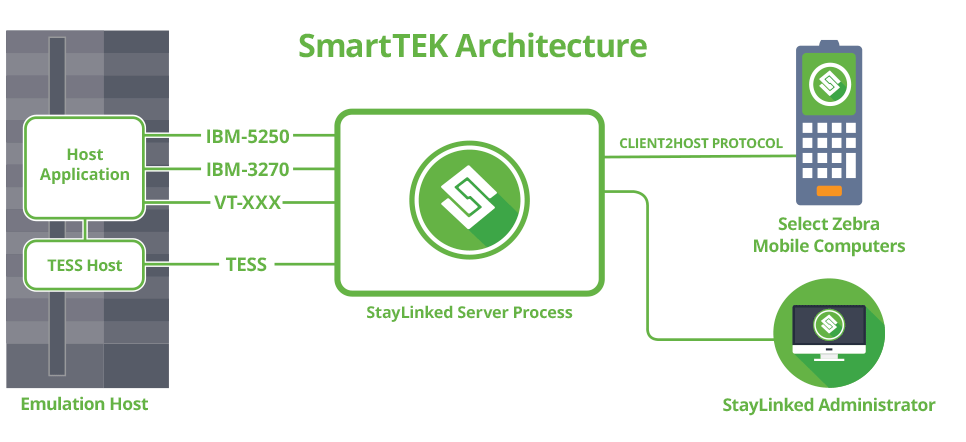 What if we don't want to install anything on the existing application server?
It is not required to install the StayLinked server process on your application server. However, a StayLinked server process is mandatory. It's important to note that the StayLinked Server process can be installed on any number of different server platforms and operating systems.
Is the SmartTEK client different from the SmartTE client)?
No, we use the same client on the devices, but they require special SmartTEK licenses.
Does SmartTEK need a different server installation (different than a SmartTE server)?
No, the server is exactly the same, but requires special SmartTEK licenses.

Can the StayLinked Server be installed on the TekRF server?
Yes, it can. As with all other supported emulation types, the StayLinked Server can be installed on the application server. We recommend evaluating the application server and consulting our recommended resource requirements first to ensure that there are enough resources to achieve maximum performance from both TekRF and StayLinked.
Does the SmartTEK client need to be connected to the original Psion controller or can the Psion controller be removed?
In most use cases, the Psion controller can be removed and replaced with the StayLinked Server software. There are some configurations, however, that may require the use of the Psion controller. In these cases, the StayLinked Server software can connect to the Psion controller directly.

Can the SmartTEK solution be applied to non-Zebra devices, like a generic client?
No, only select Zebra devices are allowed to connect to SmartTEK (TESS emulation).

Can the SmartTEK licenses be purchased from StayLinked or can they only be purchased from Zebra?
SmartTEK is only available from Zebra.