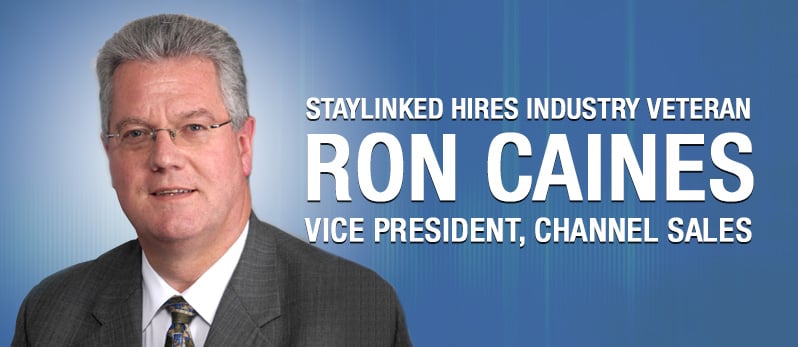 We are excited to announce that industry veteran Ron Caines has agreed to join StayLinked as its Vice President of Channel Sales. Ron's most recent role was as Vice President of Global Sales at AetherPal, a company specializing in remote support and interactive training for mobile devices. Prior to joining AetherPal, Ron was the Vice President of Global Sales and Marketing at B2M Solutions, a UK company focused on the development of mobile device analytics.
Previously, Ron was the President of Worldwide Sales and Services for Psion Corporation, a company acquired by Motorola Solutions. (Motorola was acquired by Zebra in 2014). Ron originally joined Psion as the Vice President of Marketing and was subsequently promoted to the role of President of the Americas prior to his appointment to his global role in 2009.
An Experienced Voice in the Supply Chain Industry
Ron's hiring comes in response to proven demand for StayLinked products around the world, as companies are increasingly migrating from legacy terminal emulation to the reliability and security of the StayLinked architecture.
"Ron Caines is an incredibly well-respected voice in this industry," said Dan Hogan, President of StayLinked. "His invaluable experience collaborating with partners and customers to help identify business needs will be vital in increasing StayLinked's growth around the globe."

Ron's responsibilities as Vice President of Channel Sales will include managing and expanding StayLinked's presence on a global scale with particular focus on distributor and reseller relationships. His role will center on strengthening these strategic partnerships as StayLinked continues to bring advanced terminal emulation solutions and business intelligence products to market.
StayLinked: The Innovation Leaders
"StayLinked is an innovative technology company with an amazing internal culture," Caines says. "I'm excited to have the opportunity to help in StayLinked's continued growth and I look forward to expanding its international reach as we continue our collaboration with a growing list of partners."
As StayLinked's roster of innovative products and features continues to expand, Caines is keenly aware of the impact StayLinked is making on the market. "StayLinked is raising the bar for warehouse efficiency and worker productivity," he says. "And by giving customers valuable insights into their systems with the development of StayLinked iQ, StayLinked is further streamlining and optimizing warehouse operations."


"StayLinked is an innovative technology company with an amazing internal culture. I'm excited to have the opportunity to help in StayLinked's continued growth and I look forward to expanding its international reach as we continue our collaboration with a growing list of partners." − Ron Caines


"Having Ron lead global channel sales will elevate the confidence of our partners and customers as we move into new markets with an ever-expanding suite of supply chain solutions." says Padraig Regan, General Manager for StayLinked EMEA and Director of StayLinked Labs, the research and development division.

"We continue to lead innovation in the terminal emulation space and the industry takes notice," says Justin Griffith, StayLinked's Chief Technology Officer. "With the addition of Ron, we have fortified our commitment to help customers quickly bring their entrenched systems into the new world of cutting-edge technology such as hardware automation, location awareness, and IoT sensor integration. His remarkable industry presence is vital to our mission to facilitate mission-critical transactions in many of the backend systems that businesses require to operate."
The StayLinked Fair Licensing Policy
If you're running Terminal Emulation using one of our competitors' approaches, odds are you're paying for licenses that are not in use. It's that simple. Unfortunately, with device-side licensing, the devices that aren't being used (devices sitting in cradles, devices that aren't working, device in lockers and drawers, and devices that are being repaired) are all unnecessarily using licenses you've paid for. This can be an added and invisible expense that many customers may not be aware of.
With StayLinked, licenses are only required by devices in use. Because of StayLinked's unique centralized architecture, licensing is handled only when devices connect through the central server. This ensures you pay for the licenses you use, and not your entire inventory of mobile devices.
And with StayLinked iQ you can manage your permanent and temporary licenses in an easy-to-use interface that gives you visibility into usage patterns, so you can see what's going on. From there, optimization is a snap. Other systems simply can't do that.
Superior S

ingle-Server

Architecture
StayLinked's fully-integrated architecture uses a single server to handle your business processes: TE application clients, session persistence, modernized screen design, fair licensing, and business intelligence.
Everything you need for TE in your warehouse can be done with one StayLinked server. That means that installation is easy (less than 10 minutes) and maintenance is minimal. With StayLinked, upkeep is easy and inexpensive, and because it's tightly-integrated, administration is simple.
Other approaches, however, require multiple servers to accomplish a lot less than what the StayLinked solution offers. This means more headaches during the installation process and ongoing support for troubleshooting multiple servers that may not even be in the same location.
---
About StayLinked
For over 20 years StayLinked has been delivering world-class solutions for mission-critical, host-based systems in the warehousing, manufacturing, transportation, and retail industries. It was our deep understanding of these host-based systems that led our team of technology experts to introduce a new paradigm in terminal emulation and session management for mobile devices.