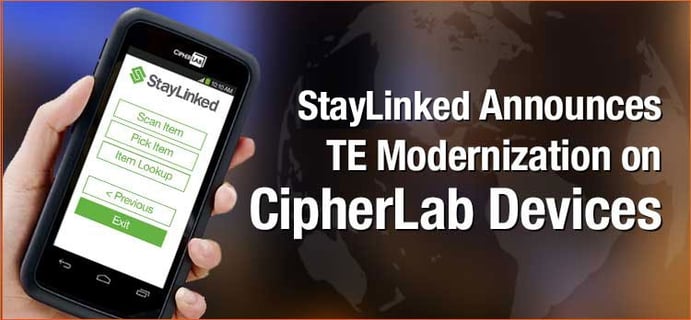 StayLinked and CipherLab are Modernizing Terminal Emulation
Here at StayLinked we are proud to announce that we have teamed up with CipherLab to offer StayLinked Terminal Emulation to CipherLab's global network of partners and customers. This agreement enables CipherLab, an established innovator in Automatic Identification and Data Capture (AIDC), to deliver StayLinked's new graphical SmartTE software on CipherLab's RS30 Series, a rugged touch mobile computer. Additionally, the ruggedness of the RS30 handheld mobile computer safely protects its powerful features from harsh environments designed with enterprise needs in mind.
"It is incredibly exciting to be working with CipherLab to deliver this solution to the industry," said Gary Brewsaugh, StayLinked's CEO. "StayLinked products allow customers to take full advantage of CipherLab's devices. The StayLinked SmartTE solution transforms Terminal Emulation screens into graphical, touch-centric application screens for devices like CipherLab's RS30 Series."
The unique architecture of StayLinked Terminal Emulation connects mobile devices to host-based applications such as Warehouse Management Systems (WMS) and Enterprise Resource Planning (ERP) systems in a very reliable, secure, and high-performance manner. It has been widely adopted across many industries including manufacturing, warehousing, transportation & logistics, 3PL, and retail.
"Because of what StayLinked SmartTE can offer our customers, we are enthusiastic about offering StayLinked on our new RS30 Series," states Hector Chavez, Director of Channel Sales, US West Coast & Canadian Territories at CipherLab. "Our RS30 Series will now enable customers to breathe new life into their Terminal Emulation applications by enabling them to leverage the touchscreen. And with the embedded analytics offered with StayLinked iQ, warehouses utilizing the RS30 Series will have insights into their business processes they've never had before."
SmartTE: The Only TE Modernization That Works Out-of-the Box!
With StayLinked SmartTE, you can apply the touchscreen capabilities to your warehouse applications right out of the box. Those who do have a combination of hardware types from different manufacturers know how hard it can be to choose a software solution that can work seamlessly across these devices.
You may have seen some of the vendor-specific solutions that claim to modernize your backend application on your device with ease. But if you talk to anyone who has actually tried these software approaches, you'll often hear the same refrain: It doesn't work. At StayLinked, the folks we've talked to who are actively looking for an alternative are amazed at not only how well SmartTE works, but how easy it is to use.
And StayLinked Works on Any Operating System!
At StayLinked, we've worked hard to make sure that your legacy Terminal Emulation apps can take advantage of what these new devices have to offer, even without a hardware keyboard. That means that no matter what new hardware you decide to use, StayLinked SmartTE just works.
Just as importantly, StayLinked works on every major operating system: Android, iOS, Windows10 (Q4/2016) and even Java. So when you decide which hardware and which OS to use in your warehouse, StayLinked is committed to making sure that your apps not only work better, but that you can focus on making tough hardware decisions without having to worry about which software to run. Because in the supply chain, as we all know, each warehouse is different.
The StayLinked Fair Licensing Policy
If you're running Terminal Emulation using one of our competitors' approaches, odds are you're paying for licenses that are not in use. It's that simple. Unfortunately, with device-side licensing, the devices that aren't being used (devices sitting in cradles, devices that aren't working, device in lockers and drawers, and devices that are being repaired) are all unnecessarily using licenses you've paid for. This can be an added and invisible expense that many customers may not be aware of.
With StayLinked, you license only devices in use. Because of StayLinked's unique centralized architecture, licensing is handled only when devices connect through the central server. This ensures you pay for the licenses you use, and not your entire inventory of mobile devices.
And with StayLinked iQ you can manage your permanent and temporary licenses in an easy-to-use interface that gives you visibility into usage patterns, so you can see what's going on. From there, optimization is a snap. Other systems simply can't do that.
Superior S

ingle-Server

Architecture
StayLinked's fully-integrated architecture uses a single server to handle your business processes: TE application clients, session persistence, modernized screen design, fair licensing, and business intelligence.
Everything you need for TE in your warehouse can be done with one StayLinked server. That means that installation is easy (less than 10 minutes) and maintenance is minimal. With StayLinked, upkeep is easy and inexpensive, and because it's tightly-integrated, administration is simple.
Other approaches, however, require multiple servers to accomplish a lot less than what the StayLinked solution offers. This means more headaches during the installation process and ongoing support for troubleshooting multiple servers that may not even be in the same location.


---
About StayLinked
For over 20 years StayLinked has been delivering world-class solutions for mission-critical, host-based systems in the warehousing, manufacturing, transportation, and retail industries. It was our deep understanding of these host-based systems that led our team of technology experts to introduce a new paradigm in terminal emulation and session management for mobile devices.