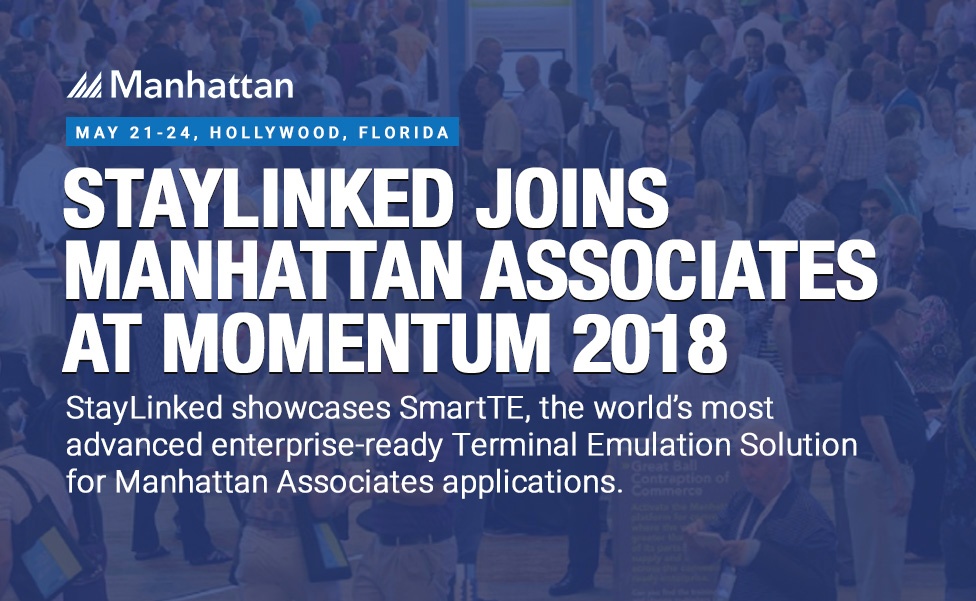 Momentum 2018: Showcasing the world's most advanced TE Solution
StayLinked will be on hand at Manhattan's Momentum 2018 in Hollywood, Florida, May 21-24, to showcase the latest advancements in Terminal Emulation for Manhattan Associates applications.
StayLinked SmartTE is fueling the massive migration from Windows-based devices to touchscreen Android mobile devices in the supply chain. The latest release, v14.4, introduces innovative features which further cements SmartTE as the premier TE Modernization solution for the industry.
StayLinked CTO, Justin Griffith will be attending the Momentum event, and is excited to guide attendees through some of the exciting new features. "SmartTE v14.4 increases the available options and ease-of-use of graphical elements making modernization easier and faster than ever," says Griffith. "And the Automation API delivers capabilities never before available in a Terminal Emulation product."
Release highlights include:
Smart Tiles

- Provide custom, graphical on-screen buttons for various tasks, independent of the emulation screen. Smart Tiles can be used to create and maintain custom keyboards, custom toolbars and buttons.
Graphics enhancements through iconic font integration

– Provides device-based, low resource graphics, eliminating need to manage or distribute an image library and avoiding inordinate design services.
New Automation capabilities

– Easily integrate Terminal Emulation with automation systems (conveyors, e.g.) with no changes required to existing applications. Traditionally, the integration of TE and automation systems is an expensive and complicated project. SmartTE can provide the same results in just hours.
DOWNLOAD IT FREE!

Smart Tiles: An innovative approach to the touch-only user experience
One of the key features on display will be StayLinked Smart Tiles, an easy-to-use, easy-to-implement capability which allows you to create and maintain custom keyboards, custom toolbars, or any collection of buttons at a layer above the application. Some of the elements you can implement with SmartTiles includes:
Custom, graphical on-screen buttons for various tasks, independent of the emulation screen.
Create and maintain custom keyboards, custom toolbars or any collection of buttons.
Create and update your SmartTiles Collections using a graphical drag-and-drop tile designer dialog.
Each SmartTiles Collection can contain one or more 'Pages' of related, graphical, on-screen buttons.
Collections can be assigned to devices using Client Settings or Screen Recognition Host APIs.
SmartTiles Collections are centrally-managed, and changes deployed to devices in real-time, on the fly.
Export SmartTiles Collections and import them into other StayLinked SmartTE Servers.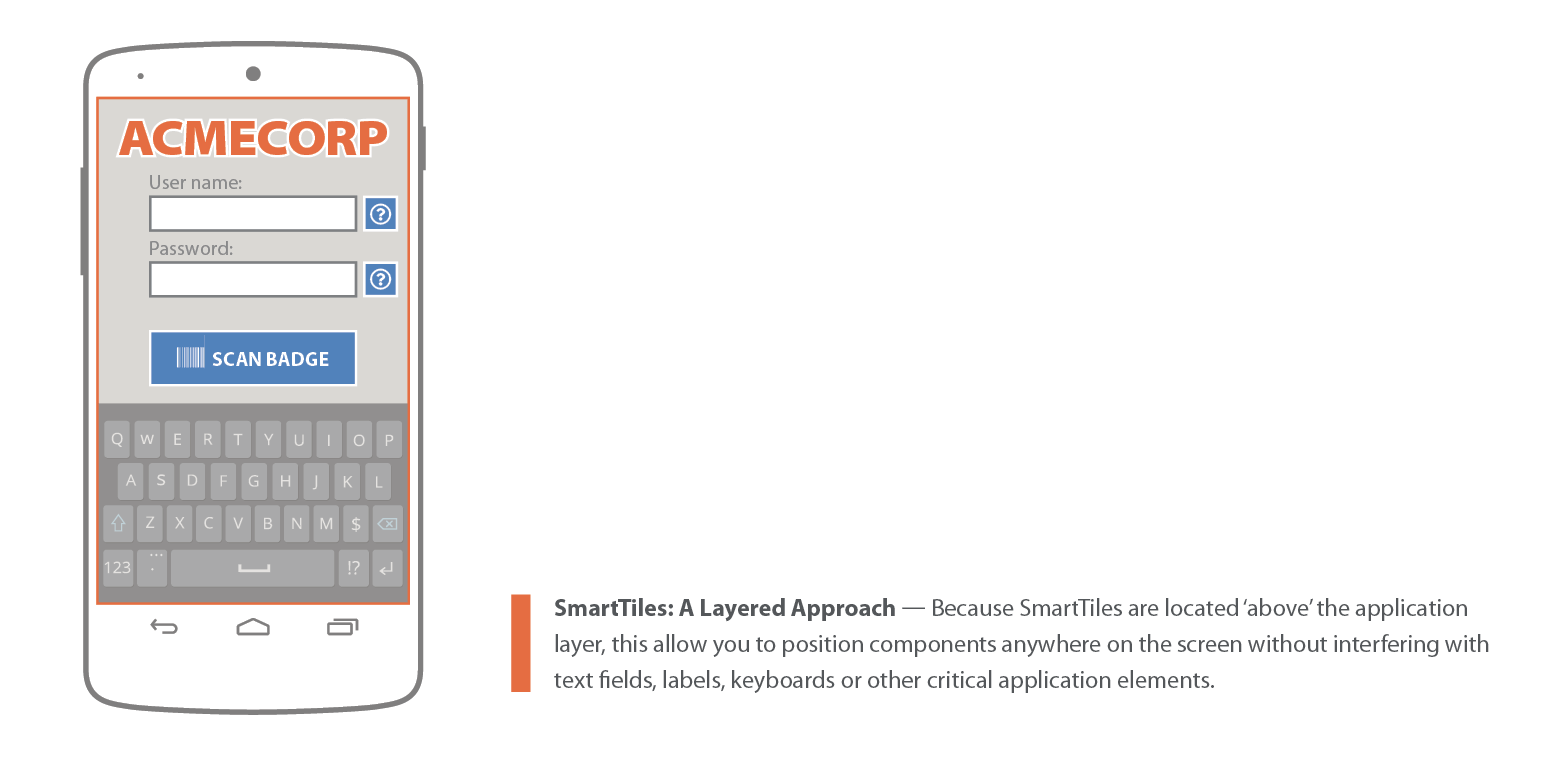 StayLinked iQ

™

: A Revolution in Warehouse Productivity and Beyond
As an innovative business intelligence tool designed with Terminal Emulation in mind, StayLinked iQ allows customers to accurately measure the productivity of warehouse operations by collecting, analyzing, and presenting device and worker information through an intuitive, browser-based console: Customers can see at a glance (and in-depth) how productive the warehouse is. It also enables you to diagnose and troubleshoot any inefficiencies due to worker inactivity, network outages, or a number of other issues you may not have known existed.
One of the compelling features emerging in StayLinked iQ is the worker productivity leaderboard, an easy-to-read list of workers who are the most productive as well as a list of workers who are experiencing the most issues on the floor. Customers can then use StayLinked iQ to diagnose and remedy issues of worker inactivity or inefficiency that may not even be the fault of the workers themselves, such as enormous travel distances between products in an order, or poor network coverage because of the remote location of a particular access point.
StayLinked iQ also allows you to see which devices are performing better than others. If you have a mix of hardware models in production, customers can use StayLinked iQ to see how each model stacks up against the others. And if one or more devices happen to be giving your workers trouble, StayLinked iQ will help identify the problem devices so you can initiate troubleshooting.


Only in StayLinked: Fair Licensing Policy
If you're running Terminal Emulation using one of our competitors' approaches, odds are you're paying for licenses that are not in use. It's that simple. Unfortunately, with device-side licensing, the devices that aren't being used (devices sitting in cradles, devices that aren't working, device in lockers and drawers, and devices that are being repaired) are all unnecessarily using licenses you've paid for. This can be an added and invisible expense that many customers may not be aware of.
With StayLinked, license are only required by devices in use. Because of StayLinked's unique centralized architecture, licensing is handled only when devices connect through the central server. This ensures you pay for the licenses you use, and not your entire inventory of mobile devices.
And with StayLinked iQ you can manage your permanent and temporary licenses in an easy-to-use interface that gives you visibility into usage patterns, so you can see what's going on. From there, optimization is a snap. Other systems simply can't do that.
Only in StayLinked:

Superior Single-Server Architecture
StayLinked's fully-integrated architecture uses a single server to handle your business processes: TE application clients, session persistence, modernized screen design, fair licensing, and business intelligence.
Everything you need for TE in your warehouse can be done with one StayLinked server. That means that installation is easy (less than 10 minutes) and maintenance is minimal. With StayLinked, upkeep is easy and inexpensive, and because it's tightly-integrated, administration is simple.
Other approaches, however, require multiple servers to accomplish a lot less than what the StayLinked solution offers. This means more headaches during the installation process and ongoing support for troubleshooting multiple servers that may not even be in the same location.


---
About StayLinked
For over 20 years StayLinked has been delivering world-class solutions for mission-critical, host-based systems in the warehousing, manufacturing, transportation, and retail industries. It was our deep understanding of these host-based systems that led our team of technology experts to introduce a new paradigm in terminal emulation and session management for mobile devices.