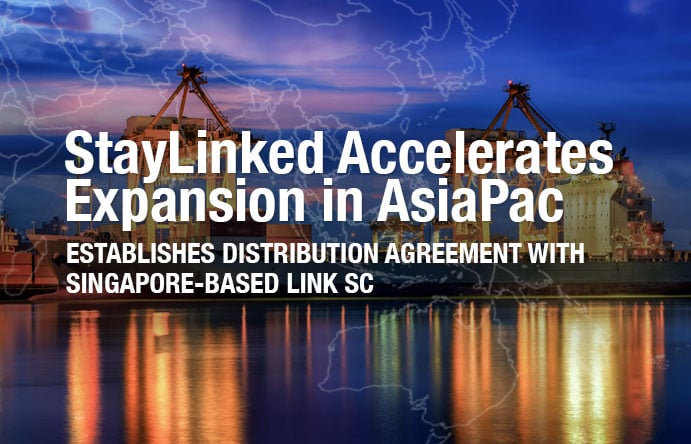 Responding to our ever-increasing global customer base, we are excited to announce that StayLinked has entered into a strategic distribution agreement with Singapore-based Link SC as a key element of its AsiaPac expansion strategy.
In support of growing demand in the region, StayLinked has partnered with Link SC as a value-added distributor for AsiaPac. Link SC will represent StayLinked to reseller partners, providing technical support, training, and services.
Steve Shea, founder of Link SC, has been in the Supply Chain IT Software industry for the last 13 years in Asia Pacific. Most recently with Ivanti and Wavelink, Shea was crucial in building and developing a multi-million-dollar operation in the region. Steve continues to rely on key channel partners to provide premier solutions in this vibrant high-growth market.
"StayLinked has a great reputation for delivering best-in-class software and support," said Shea. "There is a clear migration from legacy solutions to modernize solutions using StayLinked and I welcome the opportunity to help resellers throughout the AsiaPac region grow their businesses with StayLinked."

Link SC will distribute StayLinked's SmartTE solution, a proven terminal emulation (TE) modernization solution that transforms traditional TE applications into modern, touchscreen applications in a matter of hours, rather than weeks or months as with other solutions. Additionally, Link SC will represent StayLinked's Supply Chain Business intelligence offering, StayLinked iQ.
"This is an exciting time for StayLinked and we are thrilled to have found such a strong partner in Link SC to accelerate the adoption of our Application Modernization and Business Intelligence technologies to the AsiaPAC market," said Jay Cichosz, VP Marketing & Business Development, StayLinked. "Steve Shea has a proven record of building successful reseller channels in the region."
SmartTE: The Only TE Modernization That Works Out-of-the Box!
StayLinked SmartTE with the Smart Keyboard ensures you can apply touchscreen capabilities to your warehouse applications right out of the box. You may have seen some approaches to Terminal Emulation that claim to modernize the backend application on your device with ease. But if you talk to anyone who has actually tried these software approaches, you'll often hear the same refrain: It doesn't work. At StayLinked, the folks we've talked to who are actively looking for an alternative are amazed at not only how well SmartTE works, but how easy it is to use. And with Smart Keyboard, StayLinked is once again leading the way to true out-of-the-box TE modernization.
The StayLinked Fair Licensing Policy
If you're running Terminal Emulation using one of our competitors' approaches, odds are you're paying for licenses that are not in use. It's that simple. Unfortunately, with device-side licensing, the devices that aren't being used (devices sitting in cradles, devices that aren't working, device in lockers and drawers, and devices that are being repaired) are all unnecessarily using licenses you've paid for. This can be an added and invisible expense that many customers may not be aware of.
With StayLinked, license are only required by devices in use. Because of StayLinked's unique centralized architecture, licensing is handled only when devices connect through the central server. This ensures you pay for the licenses you use, and not your entire inventory of mobile devices.
And with StayLinked iQ you can manage your permanent and temporary licenses in an easy-to-use interface that gives you visibility into usage patterns, so you can see what's going on. From there, optimization is a snap. Other systems simply can't do that.
Superior S

ingle-Server

Architecture
StayLinked's fully-integrated architecture uses a single server to handle your business processes: TE application clients, session persistence, modernized screen design, fair licensing, and business intelligence.
Everything you need for TE in your warehouse can be done with one StayLinked server. That means that installation is easy (less than 10 minutes) and maintenance is minimal. With StayLinked, upkeep is easy and inexpensive, and because it's tightly-integrated, administration is simple.
Other approaches, however, require multiple servers to accomplish a lot less than what the StayLinked solution offers. This means more headaches during the installation process and ongoing support for troubleshooting multiple servers that may not even be in the same location.
---
About StayLinked
For over 20 years StayLinked has been delivering world-class solutions for mission-critical, host-based systems in the warehousing, manufacturing, transportation, and retail industries. It was our deep understanding of these host-based systems that led our team of technology experts to introduce a new paradigm in terminal emulation and session management for mobile devices.