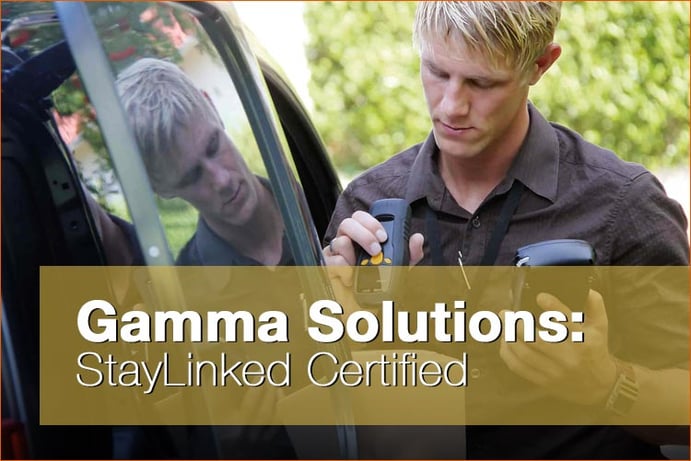 Gamma Solutions, a solution provider based in Melbourne, Australia, is now StayLinked Certified. Specializing in data capture hardware and software, Gamma Solutions has extensive experience is designing systems varying in complexity from simple programs for barcode readers in a batch mode to sophisticated implementations involving wireless infrastructure.
"StayLinked gives our customers the confidence in their inventory management systems by removing the uncertainty of connection either in 4G or WiFi environments," says Clem Valdez, National Technical Services Manager at Gamma Solutions. "By having certified StayLinked engineers, Gamma is able to provide and support unparalleled solutions for our customers and help give them an edge over their competitors."
Gamma engineers have significant technical expertise in their fields of leading-edge technology and network integration, software development, project management, barcode technology, and quality management. The technical team works in synergy with customers to provide solutions appropriate to the customers' unique business requirements. Additional services provided in this area include consulting, design, and system implementation.
Gamma Solutions also provides consulting services with StayLinked Certified Engineers with significant technical expertise in the fields of software development, management, barcode technology, and quality management. The consultants work with the customers to apply appropriate technologies to the customer's unique business requirements.
"Gamma solutions has been a valued StayLinked reseller for more than a decade," says StayLinked Technical Account Manager, Christian Blunschi. "They have the most experience implementing the StayLinked solution of any partner in the Asia-Pacific region and I am thrilled to see them achieving StayLinked Certified Engineer status for not just one, but three of their technical experts and I look forward to working with gamma in the future."
Training Gamma Solutions
John Haller, StayLinked's Director of Technical Training and Support, also commented on how well the training went. "It's always great to work with professionals that have the technically savvy to understand the implications the training can offer their customers. The testing requires individuals to understand the concepts, but this team made the whole process look fast and easy."
The training consisted of three days of intense focus on StayLinked's architecture, UX, SmartTE, licensing, and other customer specific applications.
"It's not often that every member of a team passes the testing without some extra study time after the training, but the Gamma team did just that," Haller said.
---
Certification Courses and Customized Training

StayLinked is proud to deliver the training and classes your team needs to take Terminal Emulation solutions to the next level. Courses are available online or by scheduling a visit to your offices. Technical training is available in multiple levels, with certification for three different tiers:

Value Added Reseller - Representatives have demonstrated expertise in standard configuration and implementation.
Solution Provider - Demonstrates expertise in typical solution stack diagnostics and advanced configuration.
System Engineer - The most technically advanced representative of the StayLinked solution and all of the most advanced features and diagnostics.
Please contact our sales team for course availability, pricing, and information.
---
CLICK HERE FOR MORE INFO ON STAYLINKED CERTIFICATION