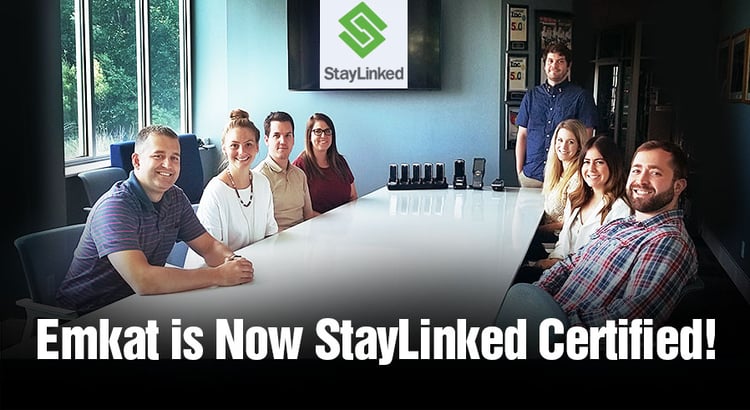 Emkat, a mobile solution provider based in Plymouth, Minnesota, is now StayLinked Certified. Concentrating primarily on mobile hardware sales and service, Emkat is a valued StayLinked reseller that offers customers of all industries with creative, cost-effective deployment solutions for RFID, barcoding, asset tracking, and other industry efficiency-increasing projects.
With StayLinked Certification, Emkat has further strengthened their ability to provide migration and modernization services for enterprise warehouse environments. Emkat solutions include: proof of delivery, field service, route sales, direct store delivery, inventory, asset tracking, and warehouse automation. These solutions help eliminate duplicate data entry, provide a seamless interaction between the worker and the business processes, and produce a more efficient and profitable employee.
Innovation Partners
"StayLinked's commitment to innovation is unparalleled and we're thrilled to offer the StayLinked solution to our customers," says Emkat CEO, Brad Kieley. "There's really nothing else like it on the market. And with StayLinked training and certification achieved, our services team is now in a unique position to help our customers not only migrate to Android, but to implement true modernization."
To achieve StayLinked Certification, Emkat engineers completed rigorous testing to reinforce their effectiveness in providing exceptional service to their customers. With StayLinked Certification, Emkat has ensured that their engineers and service teams are up to date on the latest StayLinked product features and capabilities giving them added expertise to maximize their customers' investments.
"Emkat is a valued StayLinked reseller," says Kevin Hoostal, StayLinked Director of Channel Development. "They have incredible experience implementing the StayLinked solution and I am thrilled to see them standardizing their Terminal Emulation offering around StayLinked. We look forward to continuing our strong partnership."
Emkat Training and Certification
John Haller, StayLinked's Director of Technical Training and Support, also commented on the success of the certification process, including valuable insights the Emkat team provided. "The Emkat team had innovative ideas on how several of our features might be used to help their existing customers," says Haller.
The training consisted of several days of intense focus on StayLinked's existing functionality as well as of the exciting new features emerging from StayLinked Labs.
"They were especially interested in the flexibility of our printing and automation features. They have customers today that can use these approaches to solve requests for indicator lights and conveyor systems that react to erroneous inputs." Haller said.
---
Certification Courses and Customized Training
StayLinked is proud to deliver the training and classes your team needs to take Terminal Emulation solutions to the next level. Courses are available online or by scheduling a visit to your offices. Technical training is available in multiple levels, with certification for three different tiers:
Value Added Reseller - Representatives have demonstrated expertise in standard configuration and implementation.
Solution Provider - Demonstrates expertise in typical solution stack diagnostics and advanced configuration.
System Engineer - The most technically advanced representative of the StayLinked solution and all of the most advanced features and diagnostics.
Please contact our sales team for course availability, pricing, and information.
---
CLICK HERE FOR MORE INFO ON STAYLINKED CERTIFICATION