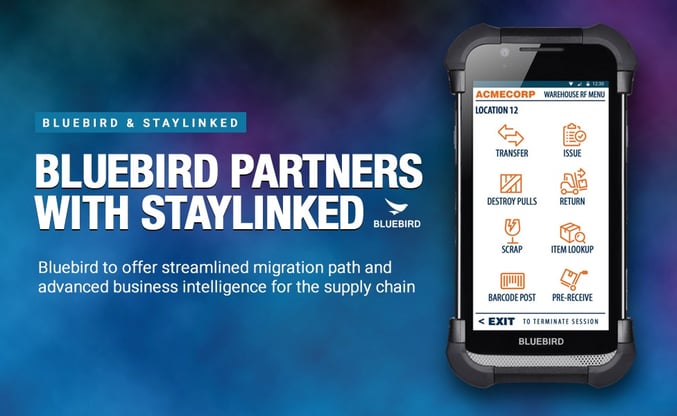 StayLinked Corporation, the leader in modern Terminal Emulation solutions, and Bluebird, a leader in warehouse mobile computing, announced today that they are now working together to offer StayLinked software on Bluebird's series of ruggedized handheld computers, featuring the Bluebird EF400, a pocket-sized touch mobile computer for rugged environments.
StayLinked's SmartTE is at the forefront of the current migration from Windows to Android operating systems in the supply chain. SmartTE easily transforms traditional Terminal Emulation screens into graphical, touch-based screens in a fraction of the time of competitive products. This new relationship will allow Bluebird customers to seamlessly migrate to new devices and operating systems in a matter of hours, not weeks or months as with other solutions.
Bluebird Handheld Mobile Computers
Bluebird handhelds and tablets run sophisticated mobile apps and data collection software on a powerful platform that is extremely familiar and easy to use. Bluebird devices, such as the Bluebird EF400 and EF500, are sealed against water and dust and can streamline a variety of tasks: Scan barcodes in a warehouse, look up stock on a sales floor, or take them on the road in a delivery truck. And with StayLinked Terminal Emulation, Bluebird can now offer customers modernized Terminal Emulation applications using StayLinked SmartTE and they can gain visibility into their production environment with the integrated business intelligence and analytics of StayLinked iQ.
"Because of StayLinked's reputation for session persistence and unparalleled support, we are excited to include StayLinked's Terminal Emulation solution on our ruggedized devices." said Bluebird's Calvin Cho, Market Development Manager, Global Business Division. "We are pleased to offer StayLinked pre-loaded on Bluebird Android devices. We are also eager to offer our customers the integrated business analytics that comes with StayLinked iQ. StayLinked will be a crucial part of our Terminal Emulation strategy moving forward."
The unique architecture of StayLinked Terminal Emulation connects mobile devices to host-based applications such as Warehouse Management Systems (WMS) and Enterprise Resource Planning (ERP) systems in a very reliable, secure, and high-performance manner.
"It's a pleasure to be a part of Bluebird's efforts in warehouse devices and applications," said StayLinked President, Dan Hogan. "We are thrilled to join Bluebird in their goal to enable customers to modernize Terminal Emulation applications and allow them to gain deeper insights into their business processes."
SmartTE: The Most Advance Terminal Emulation Solution in the World
With StayLinked SmartTE and Bluebird, you can apply touchscreen capabilities to your warehouse applications right out of the box. Those who do have a combination of hardware types from different manufacturers know how hard it can be to choose a software solution that can work seamlessly across these devices.
You may have seen some of the vendor-specific solutions that claim to modernize your backend application on your device with ease. But if you talk to anyone who has actually tried these software approaches, you'll often hear the same refrain: It doesn't work. At StayLinked, the folks we've talked to who are actively looking for an alternative are amazed at not only how well SmartTE works, but how easy it is to use.
And StayLinked Works on Any Operating System!
At StayLinked, we've worked hard to make sure that your legacy Terminal Emulation apps can take advantage of what Bluebird devices have to offer, even without a hardware keyboard. That means that no matter what new hardware you decide to use, StayLinked SmartTE just works.
Just as importantly, StayLinked works on every major operating system: Android, iOS, Windows10 and even Java. So when you decide which hardware and which OS to use in your warehouse, StayLinked is committed to making sure that your apps not only work better, but that you can focus on making tough hardware decisions without having to worry about which software to run. Because in the supply chain, as we all know, each warehouse is different.
The StayLinked Fair Licensing Policy
If you're running Terminal Emulation using one of our competitors' approaches, odds are you're paying for licenses that are not in use. It's that simple. Unfortunately, with device-side licensing, the devices that aren't being used (devices sitting in cradles, devices that aren't working, device in lockers and drawers, and devices that are being repaired) are all unnecessarily using licenses you've paid for. This can be an added and invisible expense that many customers may not be aware of.
With StayLinked, licenses are only required by devices in use. Because of StayLinked's unique centralized architecture, licensing is handled only when devices connect through the central server. This ensures you pay for the licenses you use, and not your entire inventory of mobile devices.
And with StayLinked iQ you can manage your permanent and temporary licenses in an easy-to-use interface that gives you visibility into usage patterns, so you can see what's going on. From there, optimization is a snap. Other systems simply can't do that.
Superior S

ingle-Server

Architecture
StayLinked's fully-integrated architecture uses a single server to handle your business processes: TE application clients, session persistence, modernized screen design, fair licensing, and business intelligence.
Everything you need for TE in your warehouse can be done with one StayLinked server. That means that installation is easy (less than 10 minutes) and maintenance is minimal. With StayLinked, upkeep is easy and inexpensive, and because it's tightly-integrated, administration is simple.
Other approaches, however, require multiple servers to accomplish a lot less than what the StayLinked solution offers. This means more headaches during the installation process and ongoing support for troubleshooting multiple servers that may not even be in the same location.


---
About StayLinked
For over 20 years StayLinked has been delivering world-class solutions for mission-critical, host-based systems in the warehousing, manufacturing, transportation, and retail industries. It was our deep understanding of these host-based systems that led our team of technology experts to introduce a new paradigm in terminal emulation and session management for mobile devices.