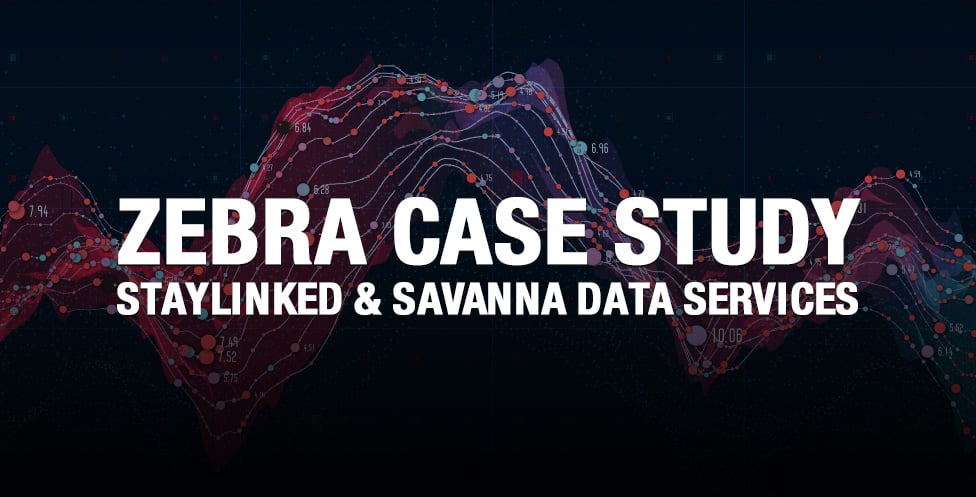 This week, Zebra announced the launch of Savanna Data Services, a new capability that is, according to their announcement, part of Zebra's breakthrough data intelligence platform, Zebra Savanna™, which allows adopters to collect and process data from Zebra hardware in real time, turning raw data into actionable insights. The platform is designed to help unlock the potential of data to build more intelligent, productive applications. StayLinked has been a proud global partner with the Savanna platform since it was first announced by Zebra in September 2017.
"We recently used the Savanna platform to enhance our ability to deliver customers a complete view of their operations," said Justin Griffith, CTO, StayLinked, also an ISV partner with Zebra. "We were able to easily link to the Savanna platform, extract valuable Zebra device information as well as complement and enhance our StayLinked iQ™ data, allowing us to help our customers accurately measure everything that impacts productivity to give them a competitive edge."
StayLinked and Zebra Technologies unveiled the first look at the integrated StayLinked iQ and Zebra Savanna platform in Malta at Zebra EMEA CPS 2018. StayLinked iQ delivers intelligence and actionable insight to Terminal Emulation customers, and, in partnership with Zebra, will continue to facilitate the development of vertically-oriented applications using edge data and associated insights from Savanna. Highlights from last year's presentation included a live demonstration of a Zebra mobile computers showing real-time data as the device went through a series of events, including a device being dropped to the floor, a battery replacement, and real-time streaming alerts.
StayLinked iQ: A Revolutionary Platform with Zebra's Savanna
"Most Terminal Emulation environments have been starved of valuable information over the past 15 years," says Padraig Regan, StayLinked General Manager, EMEA, and Director of StayLinked Labs. "Through our extensive work at StayLinked Labs, we were able to develop a robust platform that can provide customers with real worker productivity data and highlight what actions need to be taken to improve and maximize productivity. We're excited to be able to show real-world examples of these device events occurring, but more importantly, why and how they were occurring."
StayLinked iQ also allows you to see which devices are performing better than others. If you have a mix of hardware models in production, customers can use StayLinked iQ to see how each model stacks up against the others. And if one or more devices happen to be giving your workers trouble, StayLinked iQ will help identify the problem devices so you can initiate troubleshooting.

StayLinked iQ Beta Program
StayLinked continues to accept formal applications for the StayLinked iQ Beta Program. The program allows access to the StayLinked iQ platform and program participants will receive platform updates and reports on the progress of StayLinked iQ.
"We continue to embrace customers, resellers, manufacturers, and anyone else in the industry that wants to join us," Regan says. "As a member of the StayLinked iQ Beta Program, successful applicants can test-drive the platform and let us know what they think. This will help further shape what data we are able to deliver to the console. It's a genuine opportunity for the industry as a whole to have a say in what information they need to see in order to deliver streamlined performance in a production environment. The ultimate goal of StayLinked iQ is to make our customers' operations more productive."
Interested participants can apply online at: http://www.staylinked.com/beta/iq




One Enterprise-Grade Server That Scales (Not Several Servers That Don't)
StayLinked's fully-integrated architecture uses a single server to handle your business processes: TE application clients, session persistence, modernized screen design, fair licensing, and business intelligence.
Everything you need for TE in your warehouse can be done with one StayLinked server. That means that installation is easy (less than 10 minutes) and maintenance is minimal. With StayLinked, upkeep is painless and inexpensive, and because it's tightly-integrated, administration is simple.
Other approaches, however, require multiple servers to accomplish a lot less than what the StayLinked solution offers. This means more headaches during the installation process and ongoing support for troubleshooting multiple servers that may not even be in the same location.
Session Persistence: Built-in Architecture — Not an External Proxy Server
Your Terminal Emulation solution should be built with your production environment in mind. Session persistence is an integral component to the StayLinked architecture. Enterprise data is transmitted efficiently and securely. Session fidelity shouldn't be an afterthought.
StayLinked eliminates dropped sessions between the mobile device and the host application. Whether the problem is poor wireless network coverage, mobile device battery issues, or mobile device reboots, the terminal emulation session will never be lost. Sessions can even be transferred to another device or even shared across multiple devices. In fact, StayLinked can even maintain your session over cellular networks when coverage is temporarily lost.
Fair Licensing (Without an Additional Server)
If you are running Terminal Emulation using one of our competitors' approaches, odds are you are paying for licenses that are not in use. It's that simple. Unfortunately, with device-side licensing, the devices that aren't being used (devices sitting in cradles, devices that aren't working, device in lockers and drawers, and devices that are being repaired) are all unnecessarily using licenses you've paid for. This can be an added and invisible expense that many customers may not be aware of.
With StayLinked, licenses are only required by devices in use. Because of StayLinked's unique centralized architecture, licensing is handled only when devices connect through the central server. This ensures you pay for the licenses you use, and not your entire inventory of mobile devices.
And with StayLinked iQ you can manage your permanent and temporary licenses in an easy-to-use interface that gives you visibility into usage patterns, so you can see what's going on. From there, optimization is a snap. Other systems simply can't do that.