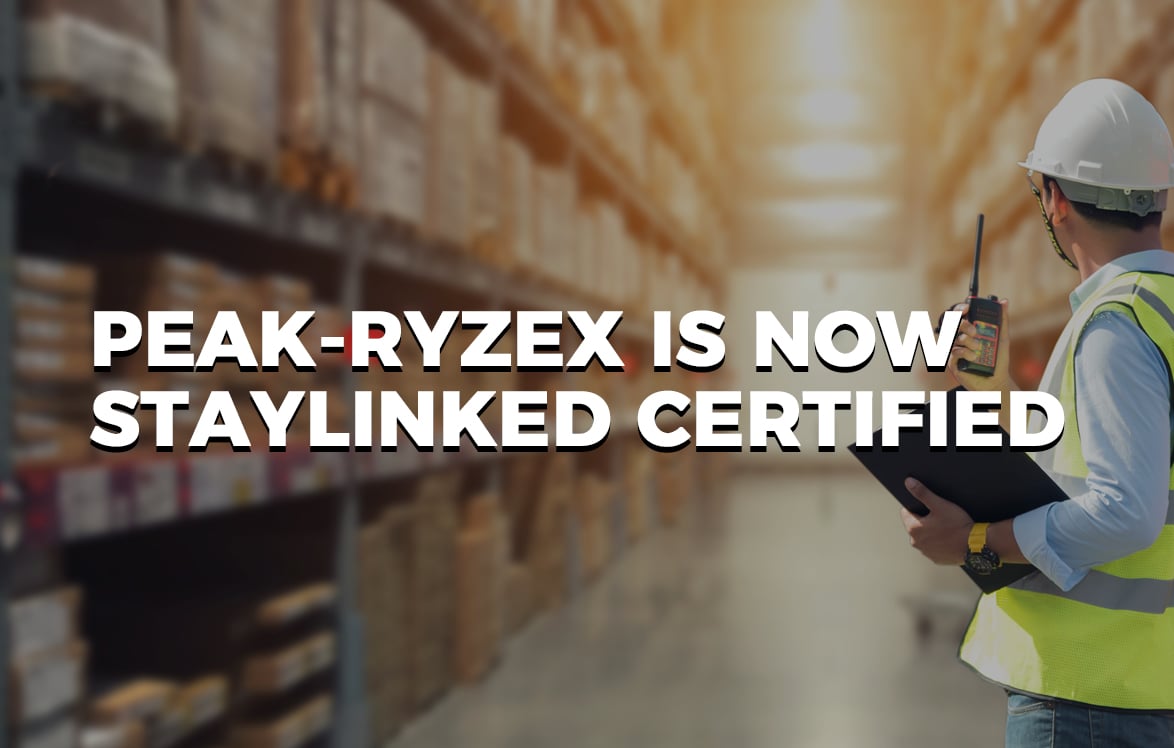 StayLinked is proud to announce that Peak-Ryzex is now StayLinked Certified. This past month, a team of Peak-Ryzex engineers traveled to StayLinked headquarters in Irvine, California, to complete StayLinked Certified Engineer training. With this training, Peak-Ryzex is the latest StayLinked Partner to invest in StayLinked certification training which further emphasizes just how much the industry values the importance of having qualified, well-trained individuals capable of deploying market leading solutions.
Peak-Ryzex: Enterprise Mobility Solutions
With StayLinked Certification, Peak-Ryzex has further strengthened their ability to provide migration and modernization services for enterprise warehouse environments. For more than 35 years, the Columbia, Maryland-based company has been at the forefront of providing end-to-end enterprise mobility, managed services, printing and mobile data capture solutions for performance-driven organizations focused on the optimization of supply chain and field-based business processes.
Peak-Ryzex's in-depth industry-specific experience, state-of-the-art solutions and managed services, and exemplary customer support provide transformational business solutions and results that deliver greater ROI and outstanding value.
Peak-Ryzex serves as a trusted business partner for some of the world's largest companies, while also supporting local and regional customers with an extensive coverage footprint throughout North America and Europe.
"To have Peak-Ryzex devote their time and resources to this extensive StayLinked training program is just another great example of how much our partners value StayLinked," says Dan Hogan, President of StayLinked. "With this certification, our partnership with Peak-Ryzex is stronger than ever and we're proud that we can continue to help them provide advanced enterprise solutions for customers around the world."
Peak-Ryzex Training and Certification
With StayLinked Certification, Peak-Ryzex has ensured that their engineers and service teams are up to date on the latest StayLinked product features and capabilities giving them added expertise to maximize their customers' investments. To achieve StayLinked Certification, Peak-Ryzex engineers completed rigorous testing to reinforce their effectiveness in providing StayLinked expertise to their customers.
"I want to say what a great training course StayLinked delivered: one of the best I've ever taken, and one of the most difficult," said Patrick T. McLoughlin, Sr. Solutions Consultant at Peak-Ryzex. "John Haller's command of the material was impressive and anyone who can make terminal emulation funny is a genius! I enjoyed the entire week in Irvine thanks to his impressive skills as a technical instructor."
John Haller, StayLinked's Director of Technical Training and Support, also commented on the success of the certification process. "Peak-Ryzex sent true industry veterans for our training program," he said. "It's always a great training when we can cover questions that directly solve real-world challenges. Having a team with such vast expertise provides a more in-depth knowledge of the products and options as well as the experience to know what matters to customers."
---
Certification Courses and Customized Training
StayLinked is proud to deliver the training and classes your team needs to take Terminal Emulation solutions to the next level. Courses are available by scheduling a visit to your offices. Technical training is available in multiple levels, with certification for three different tiers:
Value Added Reseller
Representatives have demonstrated expertise in standard configuration and implementation.
Solution Provider
Demonstrates expertise in typical solution stack diagnostics and advanced configuration.
System Engineer
The most technically advanced representative of the StayLinked solution and all of the most advanced features and diagnostics.
Please contact our sales team for course availability, pricing, and information.
---
CLICK HERE FOR MORE INFO ON STAYLINKED CERTIFICATION