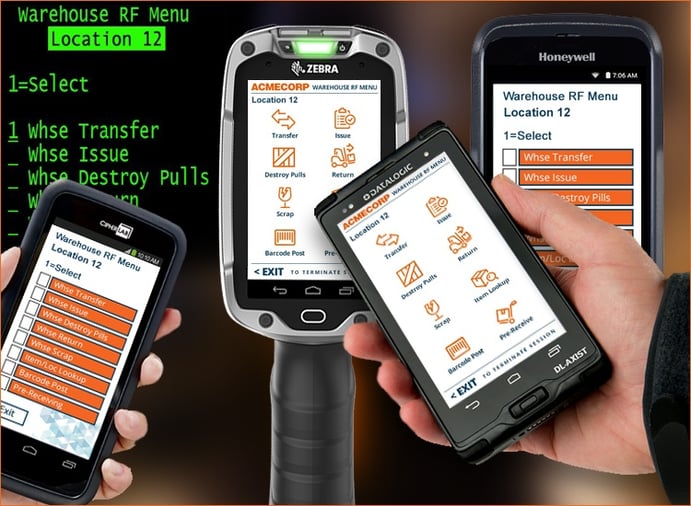 We're excited to announce our live TE Modernization Webinar that will show you in detail how to modernize your Terminal Emulation applications in less than an hour, without ever having to touch the host application. StayLinked Europe General Manager, Padraig Regan, will host this hour-long presentation where he will dive into the process of modernizing your applications for the latest state-of-the-art devices. No other product on the market allows you to do this and we'll show you why.
---
---
StayLinked + New Devices = Success
Experiencing modernization woes? You're not alone. And we can help!
Whether you are a hardware manufacturer, a reseller, or an end user, you've likely heard tales of anger and frustration when it comes to modernizing your Terminal Emulation applications for modern touchscreen devices. It's not exactly a well-kept secret: Many of you have gone down the path of modernizing screens, sometimes tens or hundreds of them, only to realize the approach you are using doesn't work, doesn't allow for easy edits, nor rapid deployment of changes, or localization compatibility without having to re-design many, if not all, of the redesigned layouts. It's only then that you realize how many of the screens are poorly rendered, and unusable. And the truth is, you are not alone. We've heard this story repeated on so many occasions from frustrated hardware manufacturers, solution providers, and customers, that it's causing anxiety in the market.
Manufacturers & Resellers: A must-see event you won't want to miss!
StayLinked has been hard at work for years on creating the most innovative, reliable, secure, and easy-to-use Terminal Emulation product available. With StayLinked SmartTE, you can apply touchscreen capabilities to your warehouse applications in less than an hour to get full functionality from your existing applications on state-of-the-art touchscreen devices, without sacrificing the worker's user experience.
With a combination of hardware types from different manufacturers you know how hard it can be to choose a software solution that will work seamlessly across the enterprise.
You may have seen some of the vendor-specific solutions that claim to modernize your backend application on your device with ease. But if you talk to anyone who has actually tried these 'free' software approaches, you'll often hear the same refrain: It's not free and it doesn't work! At StayLinked, the customers we've talked to who are actively looking for an innovative alternative are amazed at not only how incredibly SmartTE works, but how easy it is to use.
We'll show you how to do this, live, without any gimmicks, and without any marketing or sales rhetoric. You'll see it live, as it happens, and you'll see how quickly, easily, and elegantly StayLinked has solved the modernization issue for host applications and new touchscreen devices.
Superior Single-server Architecture: A Modern Approach
StayLinked's fully-integrated architecture uses a single server to handle your business processes: TE application clients, session persistence, modernized screen design, fair licensing, and business intelligence.
Everything you need for TE in your warehouse can be done with one StayLinked server. That means that installation is easy (less than 10 minutes) and maintenance is minimal. With StayLinked, upkeep is easy and inexpensive, and because it's tightly-integrated, administration is simple.
Other approaches, however, require multiple servers to accomplish a lot less than what the StayLinked solution offers. Requiring multiple servers means more headaches during the installation process and ongoing support for troubleshooting multiple servers that may not even be in the same location.


Let us show you to modernize your TE App in less than an hour!
---
About StayLinked
For over 20 years StayLinked has been delivering world-class solutions for mission-critical, host-based systems in the warehousing, manufacturing, transportation, and retail industries. It was our deep understanding of these host-based systems that led our team of technology experts to introduce a new paradigm in terminal emulation and session management for mobile devices.