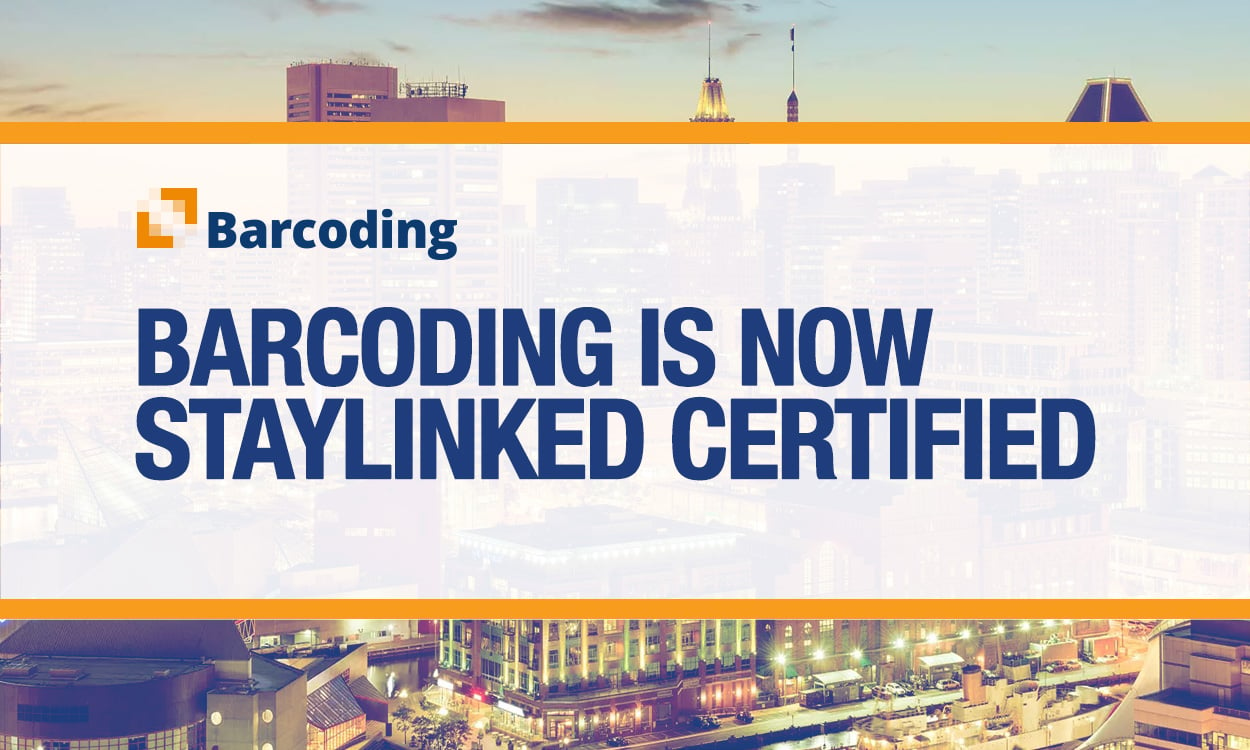 Barcoding, founded in Baltimore, Maryland, in 1998, recently became StayLinked Certified and in the process furthered their commitment to making its customers more efficient, accurate, and connected through the most cutting-edge technology.
With dedicated practices in Data Capture, Supply Chain Architecture, RFID, Consumables, Software and Professional Services, Barcoding impacts tens of thousands of organizations across the globe, helping them increase revenue, reduce operational costs and improve their customers' experiences.
With StayLinked Certification, Barcoding has further strengthened their ability to provide migration and modernization services for enterprise warehouse environments. Barcoding solutions enable companies to accurately track every item throughout their supply chain and improve efficiency, saving immeasurable hours in cross-docking, yard management and pick-up and delivery operations. With their technology partners, they deliver real-time information exactly where it's needed so companies have complete and timely visibility of their products at all times.
Barcoding and StayLinked SmartTE
"StayLinked SmartTE continues to push the boundaries of what is possible with Terminal Emulation. It's the main reason we're excited to partner with the StayLinked," says Jay Steinmetz, CEO at Barcoding "With StayLinked training and certification achieved, Barcoding is positioned to assist customers in migrating to Android and implement modernized functionality."
To achieve StayLinked Certification, Barcoding's engineers completed rigorous testing to reinforce their effectiveness in providing exceptional service to their customers. With StayLinked Certification, Barcoding has ensured that their engineers and service teams are up to date on the latest StayLinked product features and capabilities giving them added expertise to maximize their customers' investments.
"This partnership and certification demonstrates Barcoding's extraordinary commitment to their customers," says Dan Hogan, President of StayLinked. "We are honored to be associated with such a prestigious brand in the Auto-ID industry and we look forward to maintaining a strong and successful partnership with Barcoding."
Barcoding Training and Certification
John Haller, StayLinked's Director of Technical Training and Support, also commented on the success of the certification process. "It's great to work with a team that works together and helps each other out," says Haller. "The Barcoding team was constantly working together to talk about the benefits and implications SmartTE features might have for their existing and potential customers."
The training took place at StayLinked headquarters in Irvine, California. The sessions consisted of several days of intense focus on StayLinked's existing functionality as well as of the exciting new features emerging from StayLinked Labs. "They appreciated the flexibility of the modernization features and centralized configuration," Haller said.
---
Certification Courses and Customized Training
StayLinked is proud to deliver the training and classes your team needs to take Terminal Emulation solutions to the next level. Courses are available online or by scheduling a visit to your offices. Technical training is available in multiple levels, with certification for three different tiers:
Value Added Reseller - Representatives have demonstrated expertise in standard configuration and implementation.
Solution Provider - Demonstrates expertise in typical solution stack diagnostics and advanced configuration.
System Engineer - The most technically advanced representative of the StayLinked solution and all of the most advanced features and diagnostics.
Please contact our sales team for course availability, pricing, and information.
---
CLICK HERE FOR MORE INFO ON STAYLINKED CERTIFICATION