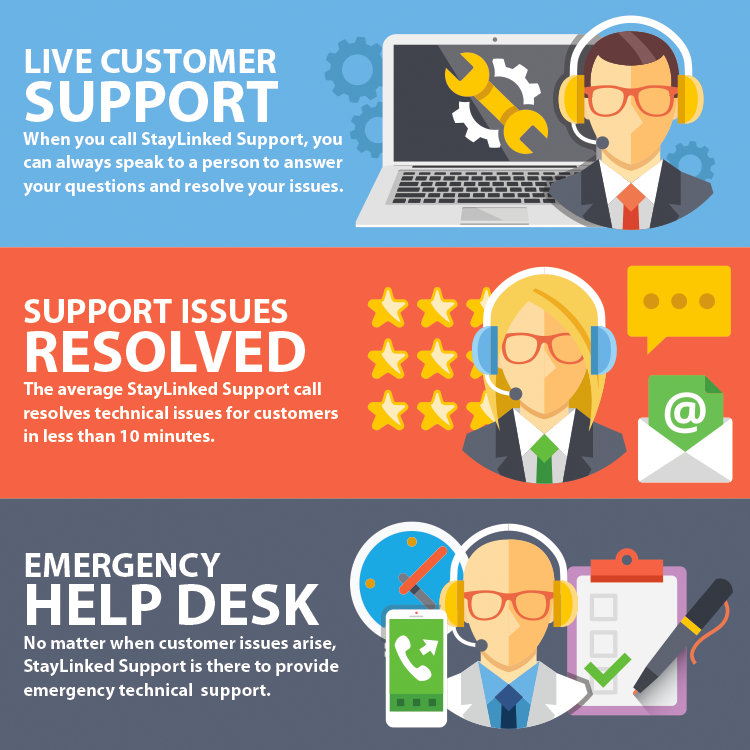 The Cornerstone of Our Customer Relationships
Bill Gates, the co-founder of Microsoft, once wrote, "Software innovation, like almost every other kind of innovation, requires the ability to collaborate and share ideas with other people, and to sit down and talk with customers and get their feedback and understand their needs."
StayLinked Support is an important part of our product. In fact, it's the cornerstone of our direct customer relationships, allowing us to have real-world discussions regarding what works, what can be done better, and what issues are being encountered in mission-critical circumstances. If you've ever had to contact StayLinked for technical support, chances are you've had your issues resolved quickly.
At StayLinked, we value our customers' voices and we do everything we can to implement this critical feedback to ensure that their operations are running efficiently, especially when trouble occurs. It makes for a better product and a better customer experience. One of the most important components of the StayLinked philosophy is listening to what our customers have to say after they've have committed to implementing our software in a production environment.
StayLinked Support: How Good Is it? (World Class.)
Recently, we conducted a short survey of StayLinked end users, partners, and resellers and what we found confirmed what we were seeing. In short, the data collected showed that StayLinked Support is extraordinary. And not just extraordinary for a company in the software application industry, but for any company in any industry.
According to the Net Promoter Score (NPS) compiled and validated by Satmetrix, StayLinked achieved a nearly impossible NPS score of +80. That figure is made all the more impressive when you realize the average score of any company in any industry is NPS +13.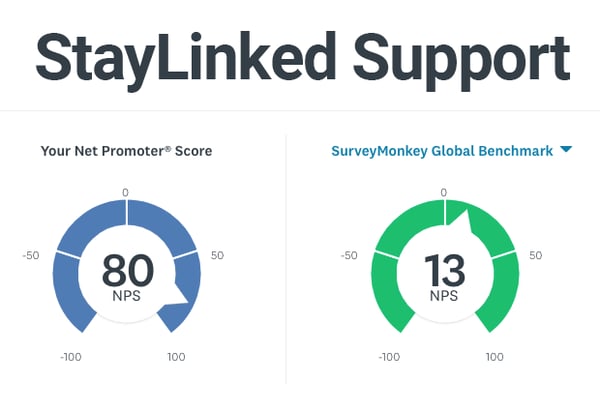 "We were obviously very pleased to see the results of the survey and, more importantly, to get real feedback from our customers," says John Haller, Manager of Customer Support and Training. "Day in and day out, we work hard to make sure we resolve customer inquiries and issues as quickly and as thoroughly as possible. To see it borne out in the data is encouraging. That said, we're always trying to do better."
After reviewing the survey, Haller decided to dig deeper into the data to understand what might be responsible for the elevated NPS score.
"By researching our support logs, we wanted to see what was happening in a normal business day," continues Haller. "We wanted to see what our customers were actually experiencing when they tried to reach support, how often they reached a live person, and how long it took to resolve their issues or answer their questions in a given situation."
Haller looked at more than 2 years of data to determine what customers were experiencing when they attempted to reach StayLinked Support by phone. Here are some of the results:
---
1. StayLinked Support: Real People Solving Real Issues

StayLinked Support data showed that there was a 96% chance a customer calling during support hours would reach a live person. Of the thousands of calls received over the two-year time period, less than 4% were not met with a human voice on the other end of the phone. Not just issues or problems, but any questions including new installation, evaluation, best practices, and even ones that aren't directly part of our product options and features.
"Our customers simply don't have the luxury of waiting days, or even hours, for a resolution to critical issues. They need answers, and they need them now."


Odds are, the person that answers the phone can answer the question right then and there. Haller adds, "We do sometimes transfer to a subject 'expert'—and training our new support staff increases these transfers—but we're committed to keeping high-level technicians on the front line."
"That's really important," says Haller. "It's important to us because it's critical for our customers. It seems like a simple mission, but it's surprising how many companies aren't doing it. Our customers simply don't have the luxury of waiting days, or even hours, for a resolution to critical issues. They need answers, and they need them now. Interestingly, there are cases when the issue isn't even with StayLinked software, but because of our supply chain experience and our technical skills, we're able to get that customer exactly what they need to get going again."
After examining the call volume, Haller next decided to see how long an average call lasted before the support issue was resolved to the customer's satisfaction.
---
2. Getting Issues Resolved: 10 Minutes of Your Time

StayLinked Support, according to call data, spends, on average, 9 minutes and 20 seconds on the phone working through customer issues to resolution.
"Shorter calls with quick and accurate answers are mutually beneficial to our customers and our support team. " explains Haller. "In fact, the previous year we were spending roughly 11 minutes on a call, so it's encouraging to see that benchmark being surpassed."
Year-over-year, StayLinked phone support has reduced the amount of time spend resolving customer issues by 15% from what was already a strong figure.


"When you call StayLinked Support, you're most likely going to speak to a person, and that person is going to help you resolve your issue in less than 10 minutes."


"The entire process is in constant review, and we're dedicated to condensing our support call volume-per-customer average. That's certainly been helped by the feedback loop, the real-world experience of our team, and the expertise of the developers themselves," says Haller. "The bottom line is that when you call StayLinked Support, you're most likely going to speak to someone, and that someone is going to help you resolve your issue in less than 10 minutes."
"But the length of the call and the resolution falls squarely on the shoulders of the StayLinked Support team," Haller continues. "This is an industry that calculates transaction times in milliseconds, so we get it. We really do understand the value of our customers' time and we work hard to improve our processes. We're excited to see results of shorter calls, but most importantly, that these results don't compromise the level of service our customers have come to expect. We certainly feel like we're getting better, but seeing it validated by reliable data is the kind of confirmation we want, that our work is netting the results we expect."
One of the more important reasons for this, Haller says, is the application development experience within the team. "We know the product," he says. "Some of the people who answer the StayLinked Support line actually wrote pieces of the code. Our roots are in application development for systems that have been in place for years, sometimes decades. When our customers call [StayLinked Support], they're speaking with a team that has meaningful and valuable experience in this space, not just from a troubleshooting perspective, but from a development perspective."
---
3. Emergency Support: There When You Need It Most

It's not uncommon for some companies to have warehouse and production facilities working around the clock, seven days a week. So, what happens for StayLinked customers seeking emergency support outside normal business hours?
"We have that data, too," says Haller.
Imagine it's Saturday morning in a Florida warehouse facility housing a centralized data center that handles terminal emulation sessions for transactions across the entire country. Now imagine that the National Weather Service has issued a Hurricane Warning for the area and the storm is barreling down on the Florida coast and mandatory evacuations are in place. Because of this, the data center has to be taken offline. It's a real-world disaster recovery situation where every second counts.
"That actually happened," Haller says. "There was a hurricane projected in the vicinity, and the company made an emergency call to StayLinked Support. The situation dictated that their server data had to be taken offline and relocated. They had a disaster recovery plan in place for many, but not all, of their operations. So, when they called StayLinked Support, we were able to devise and implement a plan for the StayLinked server within a half-hour. StayLinked was online, up and running in another secure location in under 30 minutes."
"Response times of less than 3 minutes just confirms that we're committed to being available for our customers whenever they need us, even at inopportune times."


Emergency support response times are critical, and the StayLinked Support team is well aware of what's at stake in these situations.
"We get emergency calls," says Haller. "Things happen, and issues arise, and they don't always happen at the most convenient time for everyone. We need people to know that when you use StayLinked, you will rarely have an event that requires support. If you do, we're here, and our number one goal is to keep your operations working."
In reviewing the data, Haller calculated that the average time for a customer to get someone with the knowledge to help on the emergency support line was 173 seconds.
"That's something we're proud of," he says. "When you measure your emergency response time in seconds, you have a pretty high bar you're trying to maintain, and even to raise. Response times of less than 3 minutes just confirms that we're committed to being available for our customers whenever they need us, even at inopportune times."
Emergency StayLinked Support and High-Availability Licensing is part of every customer's support and maintenance agreement.
---
StayLinked Support: Getting Better and Going Global
Last year StayLinked grew substantially, and that expansion shows no signs of slowing down. "We experienced 40% growth in 2017," says Jay Cichosz, StayLinked Vice President of Marketing and Business Development. "We've accomplished this, in large part, because of the relationships we've been able to build across the globe. And with that comes an inherent responsibility to provide world-class support for our customers wherever they may be."


"It's a responsibility none of us takes lightly. I've worked in the industry for decades and StayLinked's reputation for incredible support is unsurpassed. It really is."


Christian Blunschi, Technical Account Manager for Europe, has been instrumental in maintaining the high level of support around the globe, especially in Europe and Asia.
StayLinked's continued growth comes in response to rapidly increasing demand for StayLinked products in Europe, where companies are continuing to migrate from legacy Terminal Emulation to the reliability and security of the StayLinked architecture and SmartTE application modernization.
Blunschi's responsibilities as Technical Account Manager include increasing StayLinked's collaboration with channel partners, device manufacturers, and application providers. Blunschi also plays a vital role in client services, technical training, and customer project management.
"We were very excited to expand our European presence," said Padraig Regan, StayLinked General Manager, Europe. "And we were fortunate to add Christian to the European team. His experience with Terminal Emulation solutions is well-known and respected in the industry and has proved invaluable in increasing StayLinked's growth in the region."
Blunschi is an experienced sales engineer that understands the complexities of software development, integration, migration and deployment for enterprise-level customers. Now based in Zurich, Switzerland, Blunschi has also worked in Asia and Oceania playing an integral role in the development and implementation of new products for major retailers.
In addition to all of that, he also plays an important role in StayLinked Support's global presence, ensuring that customers in many different time zones get the support they need.
"It's a responsibility none of us takes lightly. I've worked in the industry for decades and StayLinked's reputation for incredible support is unsurpassed. It really is. I think if you asked people who've had to use StayLinked support—and we actually did!—they are happy to tell you how great it is. To be a part of maintaining that level is a challenge any organization would want to have."
---
About StayLinked
For over 20 years StayLinked has been delivering world-class solutions for mission-critical, host-based systems in the warehousing, manufacturing, transportation, and retail industries. It was our deep understanding of these host-based systems that led our team of technology experts to introduce a new paradigm in terminal emulation and session management for mobile devices.


---